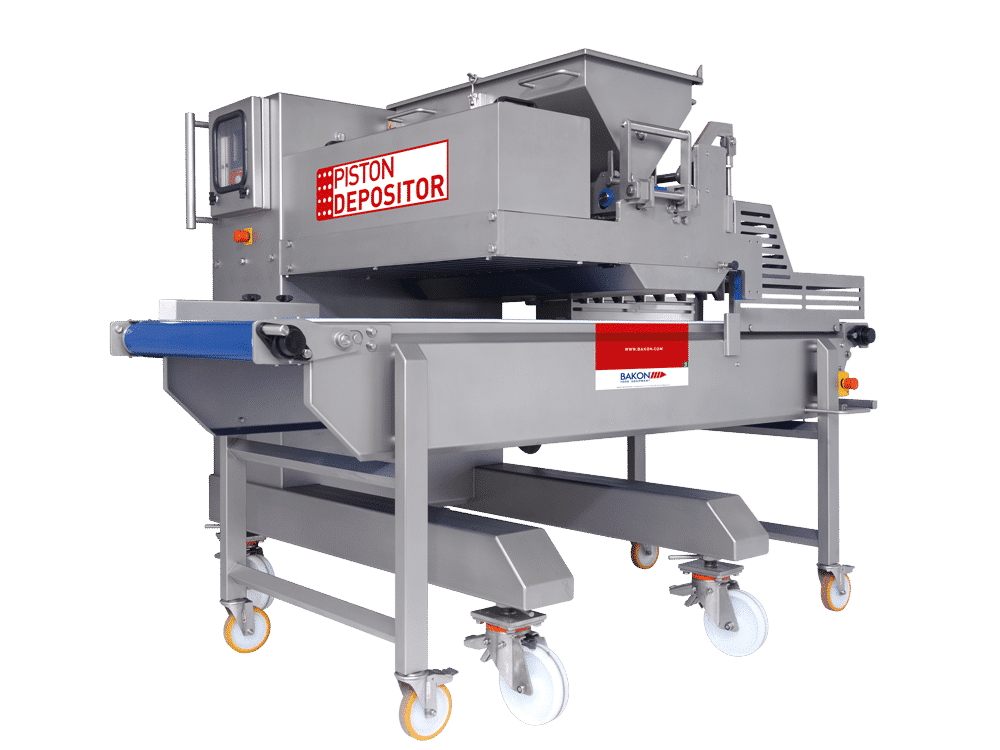 The Hopper
Easily removable for cleaning.
1 of 7
Cylinders
Choose from various sizes
to deposit different volumes.
2 of 7
Dosing speed
Can easily be adjusted by means of a rotary knob.
3 of 7
Heated execution (optional)
With double jacketed hopper and
integrated heating and water
circulation system.
4 of 7
Protective door (optional)
To protect the control panel.
5 of 7
Dripless nozzles or manifold (optional)
6 of 7
Conveyor belts (optional)
On wheels, in various sizes and executions.
7 of 7
Exceptionally well in depositing
The PISTON DEPOSITOR: exceptionally well in depositing
The PISTON DEPOSITOR is an easy to manage and adaptable depositor for fast and precise depositing of various semi-liquid fillings. This machine is designed to faultlessly process a great variety of products; especially suitable for depositing products with pieces, like nuts, raisins, fruit, chocolate, etc.
Various models and options make the PISTON DEPOSITOR very suitable to use both as stand-alone machine and inline (to build or expand your production line).
Of course we also offer customized solutions to meet all your needs!
Products to be deposited are drawn in from the hopper by the pistons in the cylinders. The piston presses the product from the cylinders to the dispensing opening. Each depositing head has its own nozzle. This enables you to deposit products with pieces such as chocolate, nuts, fruit, etc.
The standard depositing volume is variable and is easily adjustable by means of the full colour touch screen.
The PISTON DEPOSITOR is a servo operated machine and complies with the latest technology. The electrical cabinet is integrated and the machine is for safety reasons standard equipped with a safety rack over the depositing cylinders and the out-feed of the machine.
e.g. cake batter, muffin batter, choco mousse, custard, cream cheese, fillings with raisins, nuts, chocolate, fruits, etc.
Operation pressure 
6 bar
Air consumption
100 – 150 liter/min.
Secure your production and reduce machine downtime with the RedCase of Bakon!