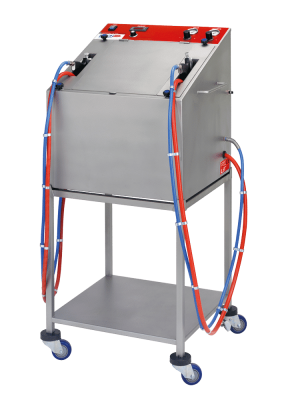 Temperature 
Digitale temperature control
1 of 3
Spray gun
Adjustable air and liquid pressure
2 of 3
Heated hoses
To keep the chocolate at the required temperature
3 of 3
Create and produce irresistible products with the
The CHOCOSPRAYER for irresistible products
The CHOCOSPRAYER is available in various executions, so there always a model to suit your requirements.
CHOCOSPRAYER 100 with 1 spray gun 
CHOCOSPRAYER 100 Twin with 2 spray guns
CHOCOSPRAYER  1 x 10 liter with 1 spray gun
CHOCOSPRAYER  2 x 10 liter with 2 spray guns
CHOCOSPRAYER  1 x 20 liter with 1 spray gun
CHOCOSPRAYER  2 x 20 liter with 2 spray guns
All CHOCOSPRAYERS are executed with airmix spray guns for easy spraying and electrically heated hoses to keep the chocolate at the required temperature during the spraying process. The digital setting of the temperature ensures an exact temperature of the liquid chocolate (or other products).
Possible applications: Cake decoration, coating of marzipan with cocoa butter, velours effect, fine sow effect, stripes, etc. Can also be used with chablons.
The CHOCOSPRAYER 100 is executed with a heated hose or hoses and has an easy to change container which is suitable for use in a microwave.
The CHOCOSPRAYER 10 or 20 liter is equipped with 1 or 2 heated pressure vessels to melt and keep the chocolate compound at a constant temperature. 
Due to the separate adjustment of liquid pressure and air pressure and the air mix spray gun(s) with heated hoses there are various options available to decorate your products:
thin or thick
fine spray
snow or powder decorations
grain pattern
lines/stripes,
velours effect, etc.
Chocolate (compound or coverture) or cocoa butter
Voltage
220 – 240 VAC / 50 Hz 
Heating capacity
500 – 3200 Watt
Spray pressure
Adjustable from 0.5 to 3.5 bar
BAKON designs and manufactures
Standardized and customized
spraying machines
cutting machines
depositing machines