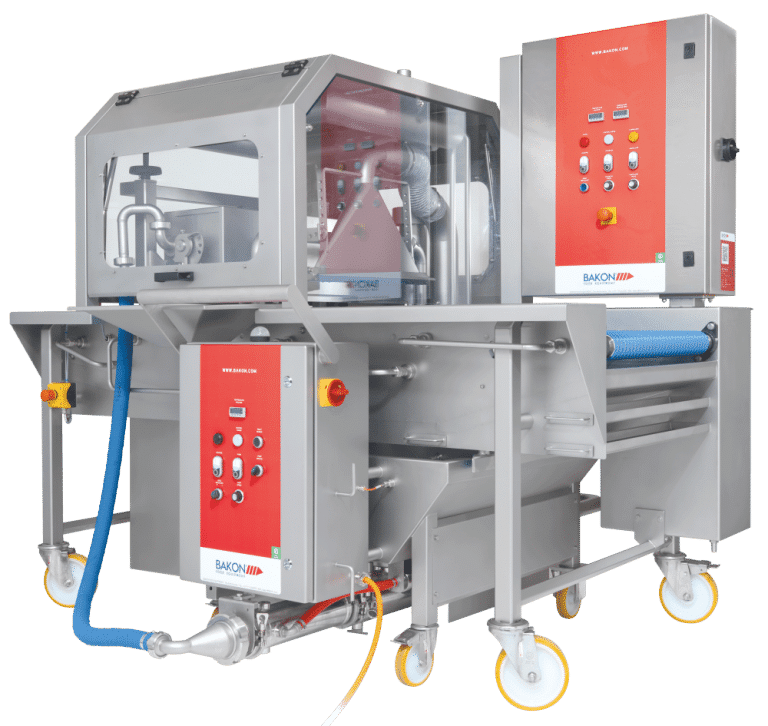 Pouring head
With manual height adjustment 
1 of 4
Movable and heated container
Standard available in 50 or 120 liter and with or without stirrer.
2 of 4
Blower
3 of 4
Adjustable scrapers
Up: for easy cleaning
Down: during production
4 of 4
To cover your products, discover the
Enrober and Finishing machine
Discover the ENROBER to cover your products
This ENROBER AND FINISHING MACHINE is based on a waterfall type of system for the finishing of a great variety of products. It is the perfect solution for pouring many different liquids such as fondant, chocolate, glaze, mirror finish, icing on top of cakes, collies, aspic, etc.
Apart from enrobing or finishing, ENROBERS make it possible – with the use of added accessories – to create beautiful finishings like string-icing and marbling effects on your products.
Products are transported over the conveyor belt to the heated pouring head. When the products pass the pouring head and go through the pouring curtain they will be covered with a nice layer of fondant, coating, fudge, etc.
Excessive covering that flows along the product is caught in the funnel and flows into the container underneath the conveyor belt. The heated container has an eccentric screw pump to pump the product through a heated hose to the heated pouring head on top op the conveyor.
The conveyor has two sections and transports the products to the end of the machine. Heated catch plates are placed under the conveyor at the in and out feed side.
The heated pouring head is adjustable with 2 hand wheels and covered with a hood with Lexan doors to control the temperature and keep the heat inside machine.
The electrical cabinet on the ENROBER holds all components to operate the machine as well as the frequency controls for the conveyor and the temperature controls for the pouring head, scrapers and catch trays.
The movable and heated container fits underneath the ENROBER and is equipped with the following components:
• heated screw pump with frequency control for speed adjustment
• lid with sieve
• heated hose between the container pump and pouring head
• temperature control for container and hose
Standard model
Conveyor length: 2000 mm
Conveyor height: 900 mm
Voltage
3 x 400 V + Neutral + Ground
Power
4 to 12 kW (depending on options selected)
BAKON designs and manufactures
Standardized and customized
spraying machines
cutting machines
depositing machines