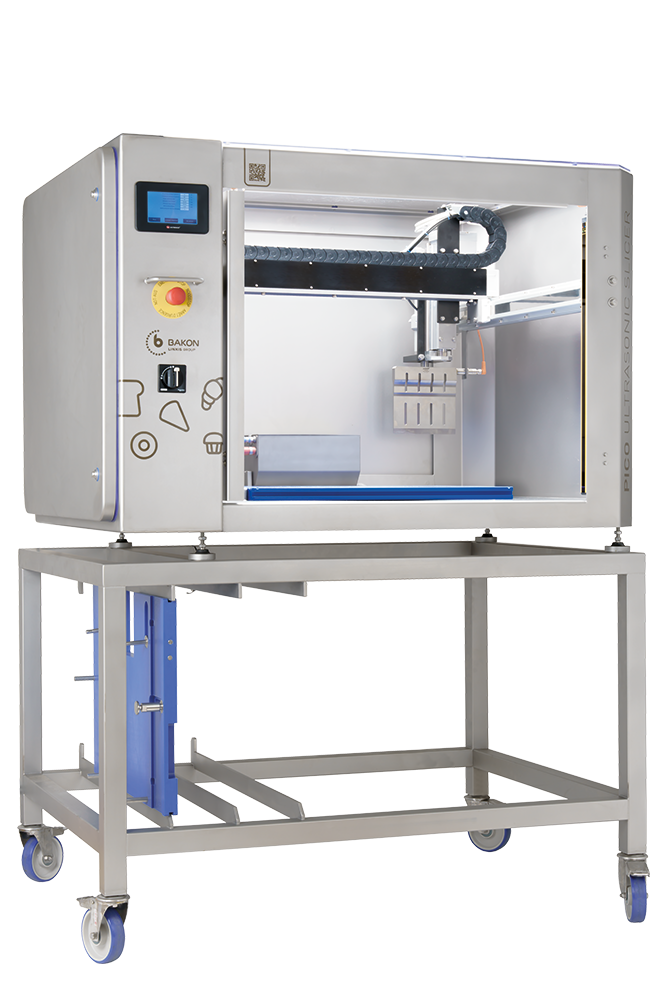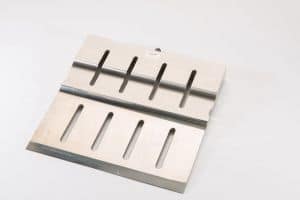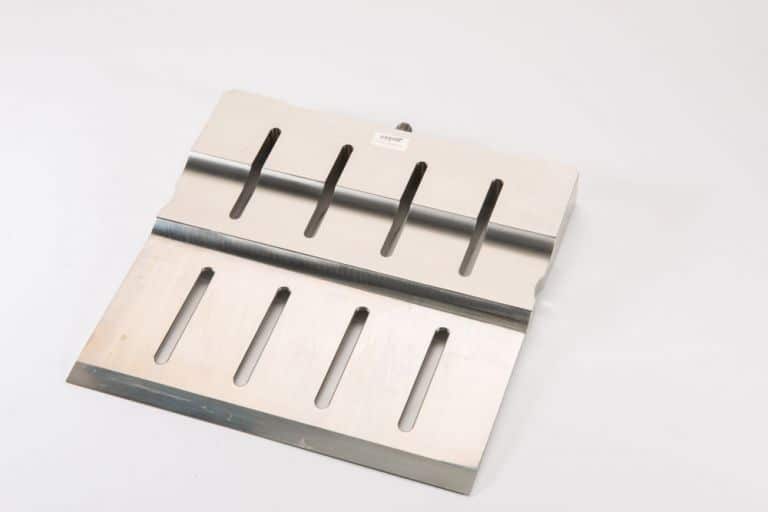 Full Wave titanium  cutting blade

1 of 4
Blade cleaning and washing unit
Cutting residue is stripped off the blade by two silicon scrapers before entering the washing unit with fresh water nozzles and air nozzles for drying.
2 of 4
Touchscreen
Full colour touchscreen (in many languages) for easy operation.

3 of 4
Undercarriage with swivel casters
4 of 4
Reach perfection with the PICO ULTRASONIC SLICER
The BAKON PICO ULTRASONIC CUTTING MACHINE is the latest addition to the range of the BAKON Ultrasonic cutting machines. This machine is specifically designed for those customers with a smaller production that still want to add great value to their products, while saving valuable labor.
There is no compromise on quality with the smaller PICO ULTRASONIC SLICER. The cutting possibilities and results are comparable to the other machines in the Ultrasonic cutting range.
By using the full-colour touchscreen, it is very easy to set product specifications and cutting patterns, and save and recall them the next time you use it.
You can cut your round cakes into beautiful triangles and your rectangular cakes into squares, triangles or diamonds shapes. 
Place your product on the cutting plate and select the (pre saved) cutting pattern. Push the start button and wait shortly for the machine to finish the cutting cycle before taking out your portioned products. 
The blade cleaning and washing unit that will automatically start after a number of cuts of products (depending on your requirements).
For rectangular and round products
Product trays max. 400 x 600 mm 
Round products with max. ∅ 350 mm
Cakes, pies, confectionaries, pizza's, quiches, muesli bars, etc.
Voltage
3 x 400 VAC + Ground, 60 Hz
Power
+ 2 kW
Air consumption
+ 50 ltr. per minute at 6 bar
Secure your production and reduce machine downtime with the RedCase of Bakon!