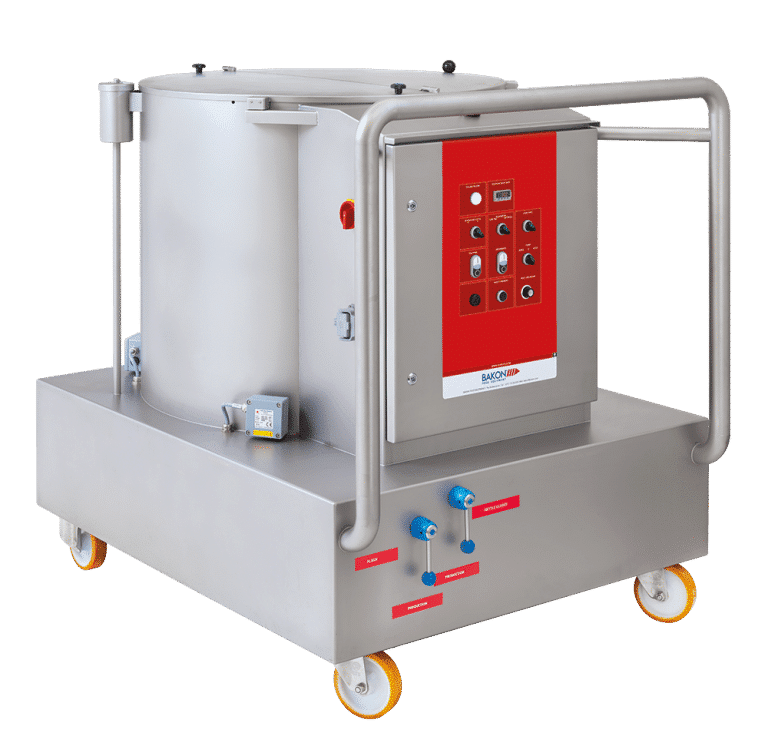 The tank has a double water-filled wall and is available with various types of scrapers.
1 of 4
Outlet to tap off some of the product and electrically heated (white) hose to transport the heated product.
2 of 4
Using the tube and blue handles make it possible to clean the pump and hoses without emptying the tank.
3 of 4
Options
– Tanks suitable for higher temperatures (up to > 100°C)
– Level sensor
– Pump to empty the tank
– Various types of scrapers
– Melting grid
4 of 4
To heat and keep products at the right temperature, use the
Use the MELTING TANK to heat and keep products at the right temperature
Experience the convenience of the double walled BAKON MELTING TANK to (pre)heat your products before processing.
Working with the MELTING TANK is easy and safe. The hinged lid opens partially for filling the tank and the stirring device will stop automatically if the machine is still in operation while opening. The machine doesn't take up much space and is easy to move on the 4 swivel casters.
The MELTING TANK heats various liquids and semi-liquids at a constant temperature for easy processing.  Because of the double water filled wall the outside temperature has no influence on the temperature inside the tank. The tank is provided with an operating panel for the digitally setting of the temperature.
The BAKON MELTING TANK consists of a double-walled tank with a constantly turning stirring device to scrape sides and bottom and is suitable for the (pre)heating of fondant, glaze, chocolate(coating) and other liquids.
To avoid evaporation and contamination the container is sealed with a hinged lid that opens partially. The lid is provided with a safety switch in order to automatically stop the stirring when opening the lid.
Emptying the container is done by using the outlet with valve or by using a pump (optional).
Rotating speed
9 rpm
Water temperature
between 20 and 60 °C
Volume
between 50 and 650 liter
BAKON designs and manufactures
Standardized and customized
spraying machines
cutting machines
depositing machines