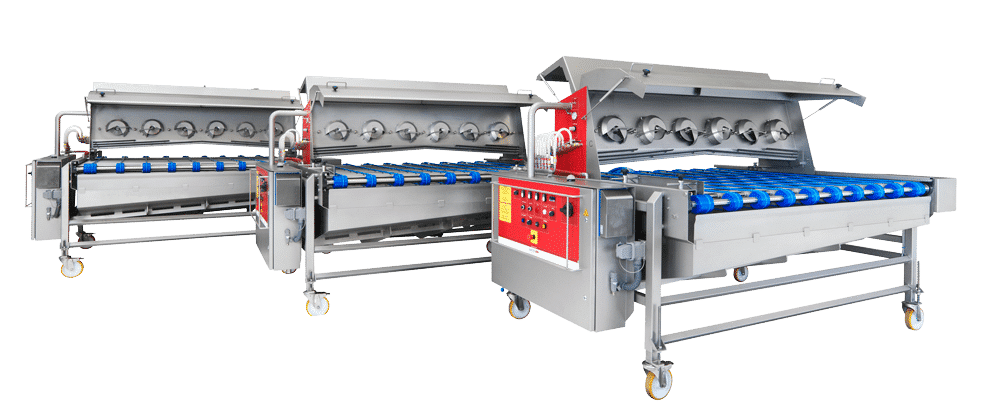 Spray hood
The discs are adjustable through the operating panel on the side of the hood. The output of product can be adjusted per disc by means of valves (one valve per disc). The hood is executed with sealed drives and backpressure valve. Front and back side of the hood can be removed without tools.
1 of 5
Control panel / Electrical cabinet
Equipped with all components to operate the conveyor, discs and pump.
2 of 5
Impeller pump
Takes care of the constant circulation of the spray product in the system.
3 of 5
Removable refrigerated collecting tank
A movable refrigerated collecting tank of 30 litre can easily be placed under the standard DISC SPRAYER. An eccentric disc pump is used instead of an impeller pump if the machine is operating over 8 hours per day.
4 of 5
Conveyor belt
Consists of a full bed of polycords with a diameter of 6 mm and CTC distance of 25 mm. Scrapers on the cords remove the overspray. The speed of the belt is adjustable between
1 – 6 m/min.
5 of 5
The finishing touch is made with the
The finishing touch is made with the DISC SPRAYER
Whether this is a DISC SPRAYER with 2 of 10 discs, they all provide a perfect finish for your products.
The application of egg wash (or substitutes) and many more hot and cold fluids by our DISC SPRAYERS is done with as little overspray as possible and no unnecessary loss of product. This makes it possible to work fast, clean and efficient on the perfection of your products.
The individual adjustment of the discs makes it easy to regulate the output of the spraying product and ensures an even spraying pattern on your product. The DISC SPRAYERS are available with different pumps (depending on the application) and various conveyors (poly cords, slat top chain, wire mesh belt or chain belt).
Products are transported under the spray hood on the conveyor belt. The belt consists of a full bed of polycords or wire mesh belt.
The speed of the conveyor belt and pump are adjustable according to the type of product. The pump takes care of the constant circulation of the spray product in the system.
The rapidly spinning discs bring a thin film of egg wash or other hot or cold liquid on your product.
Overspray and loss of product is kept to a minimum. Overspray of the discs is collected in the integrated container. The DISC SPRAYER is standard equipped with a 50 liter container; customized sizes are of course possible!
Our DISC SPRAYERS are already easy to clean, but with Cleaning Assistant it becomes even more easier. Several of our machines can be Cleaning Assistant-prepared. If you are planning to use Cleaning Assistant in the future, we can already implement the spray nozzles of the system inside your DISC SPRAYER.
​Egg wash, oil, liquor, water and other thin fluids ( hot and cold)
Standard model
1600 x 1330 x 1120 mm (l x w x h)
Conveyor
500 x 600 x 900 mm (l x w x h)
BAKON designs and manufactures
Standardized and customized
spraying machines
cutting machines
depositing machines