Hygienic Design for Food Safety
An important activity in food-producing companies is cleaning the production machines. When designing the machines BAKON produces, careful consideration is given to cleaning the machines.
How do we make the machine as easy to clean as possible is an important question during the  engineering phase. Since time is precious, easier and therefore faster cleaning is a plus for the machine. Faster and easier cleaning also means using less water. This also makes BAKON's machines more environmentally friendly, which fits perfectly with sustainable business operations. Many of the parts that are in contact with the product can be put in the dishwasher after disassembly.
Good cleanability is an extension of food safety. Food safety is more and more an important social issue, which means that food-producing companies must meet increasingly strict requirements regarding their production processes and the materials that come into contact with the product. 
For BAKON, this means that all machines must comply with all applicable food safety standards. Our engineers are fully aware of all the current regulations and standards. All materials and parts used in the BAKON machines are therefore provided with a certificate in accordance with EC1935/2004.
With machines from BAKON you can easily comply with the applicable requirements and regulations now and in the future.
Key features and benefits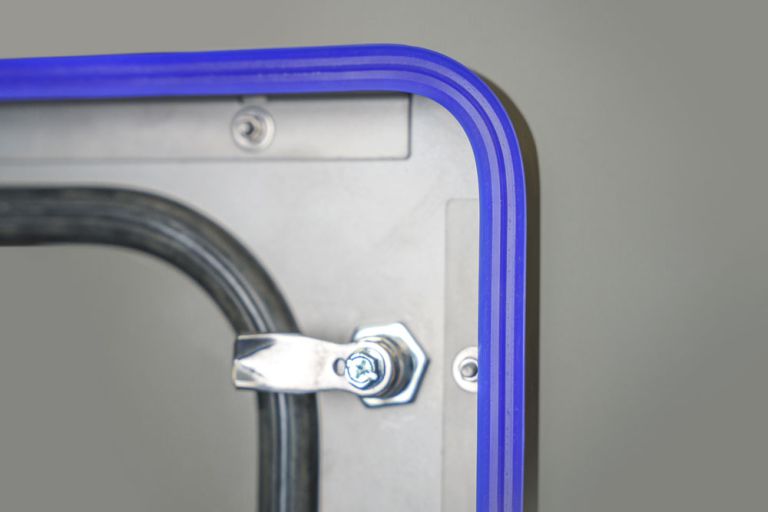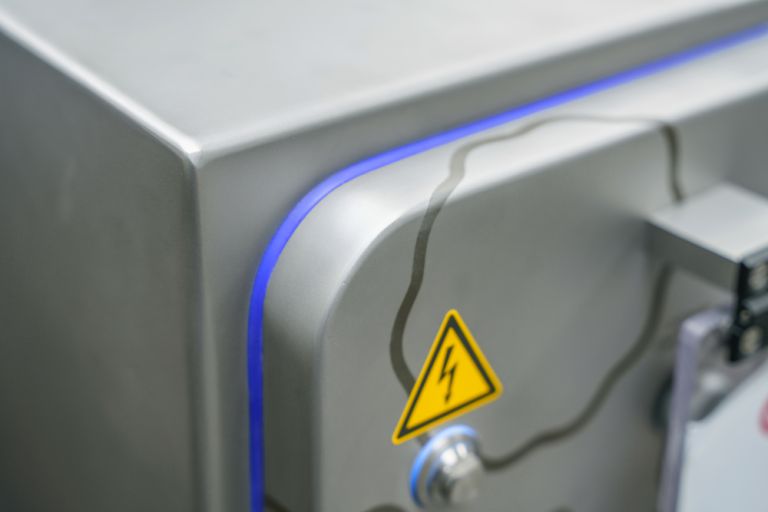 The blue rubber sealing strips for e.g. the electrical cabinets are seamless, making them watertight and easy to clean.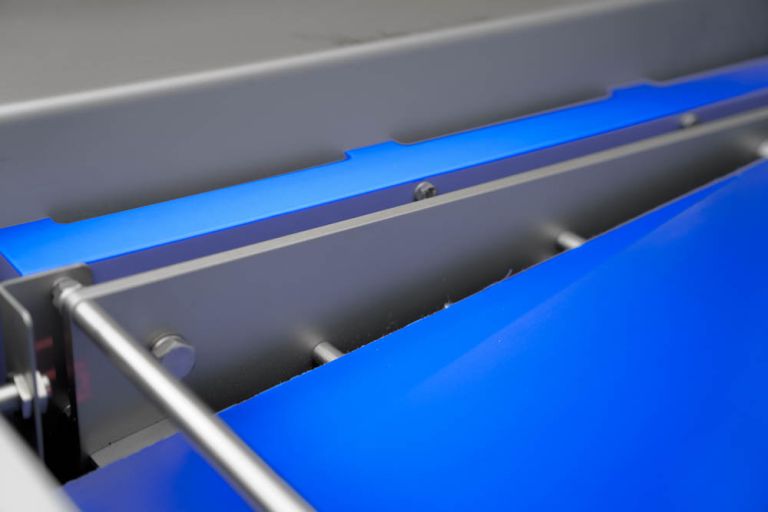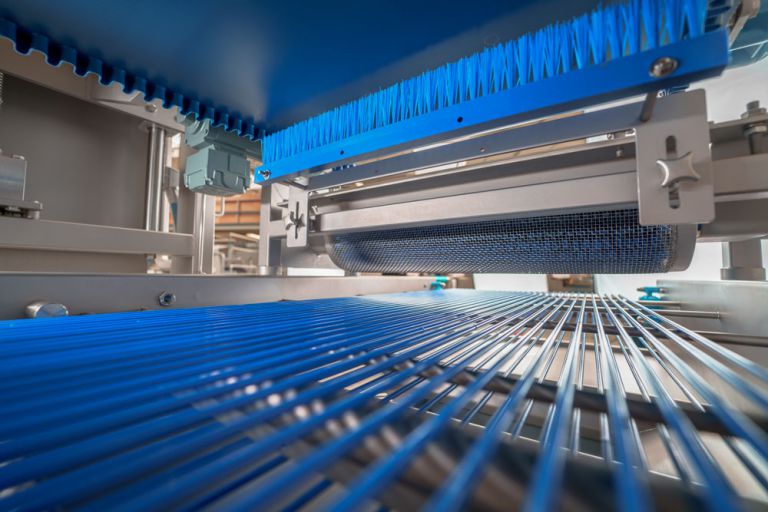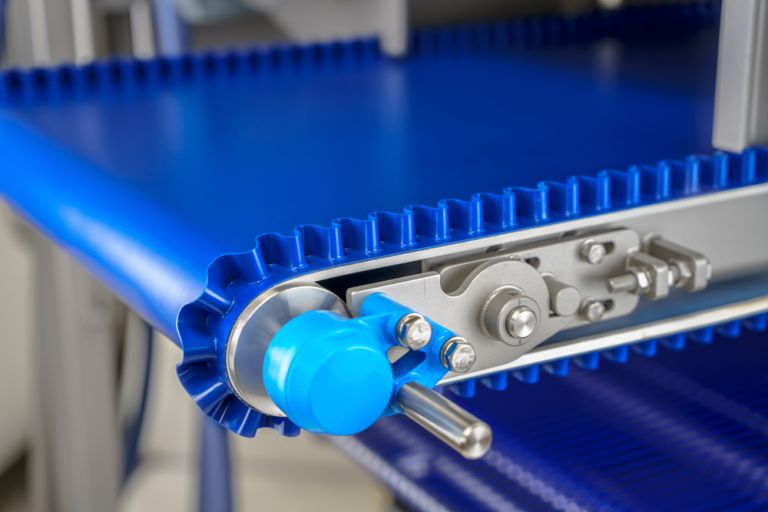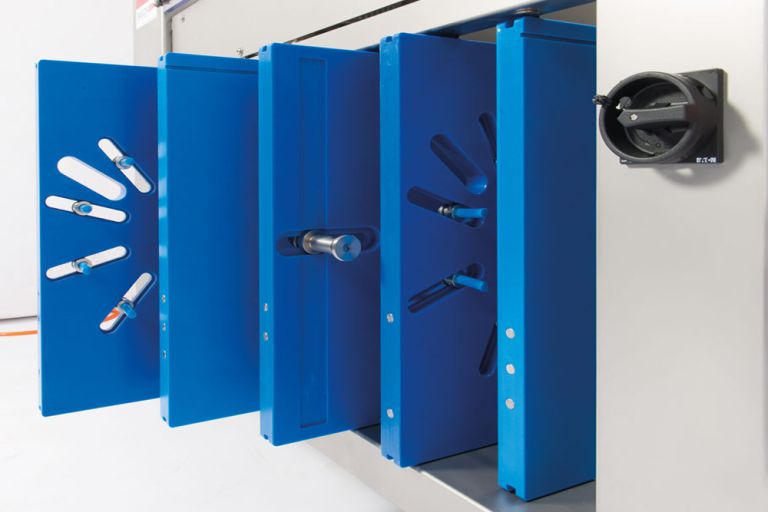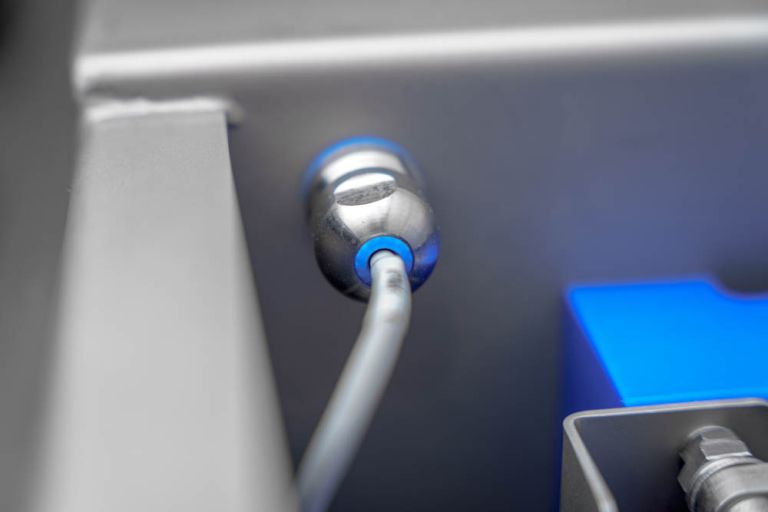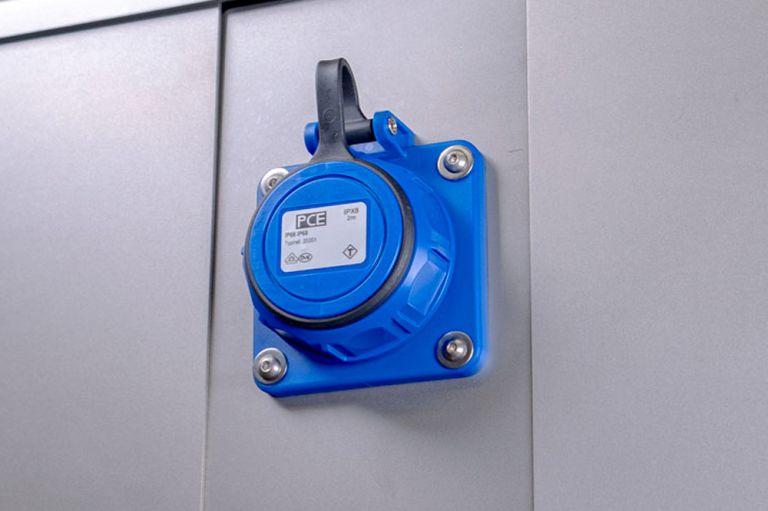 All parts and FCM's, such as cutting tables, conveyors cords, hoses, cables, rubber sealing strips, rings, etc are for food safety reasons  where possible made in the color blue because of the high visibility and rapid identification.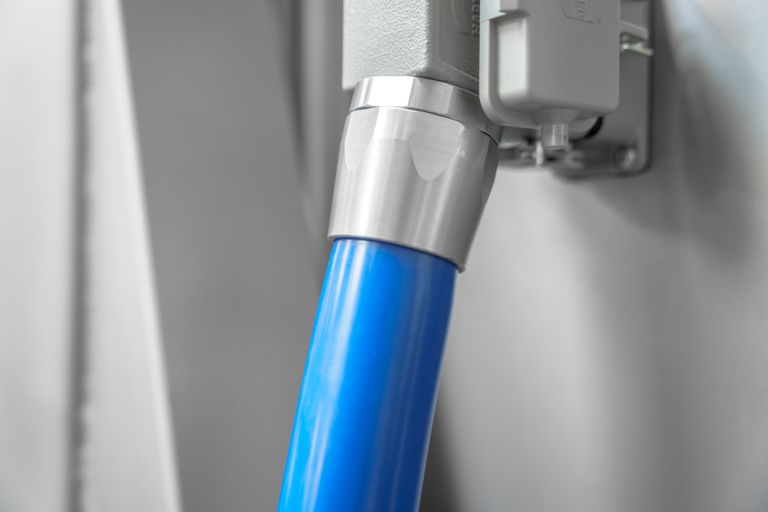 Where possible, smooth hoses are used instead of corrugated hoses to prevent the buildup of product residues and dirt.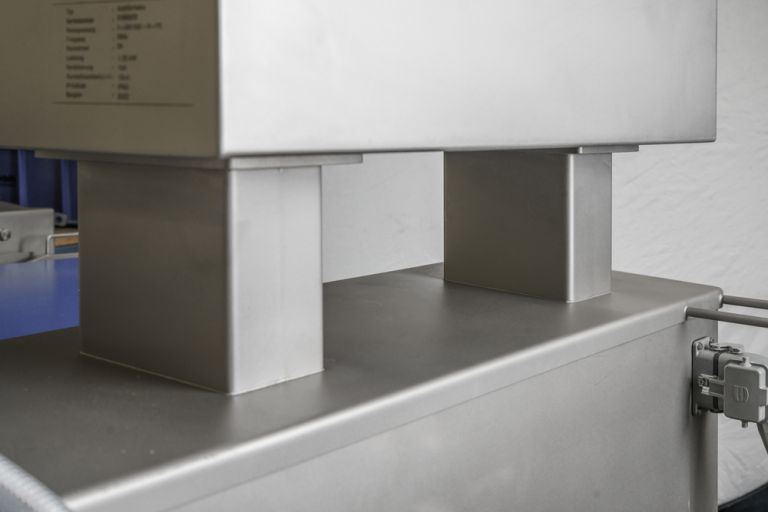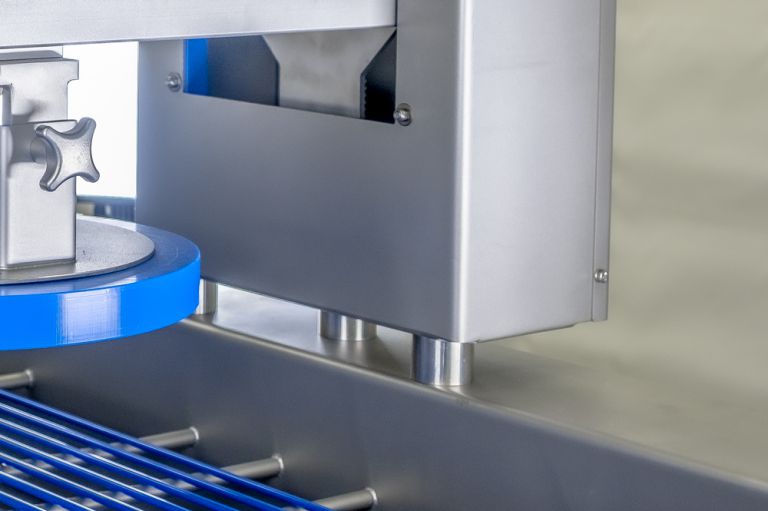 Cabinets (and other machine parts) are placed on stands to avoid accumulation of dirt in corners and between the different machine components.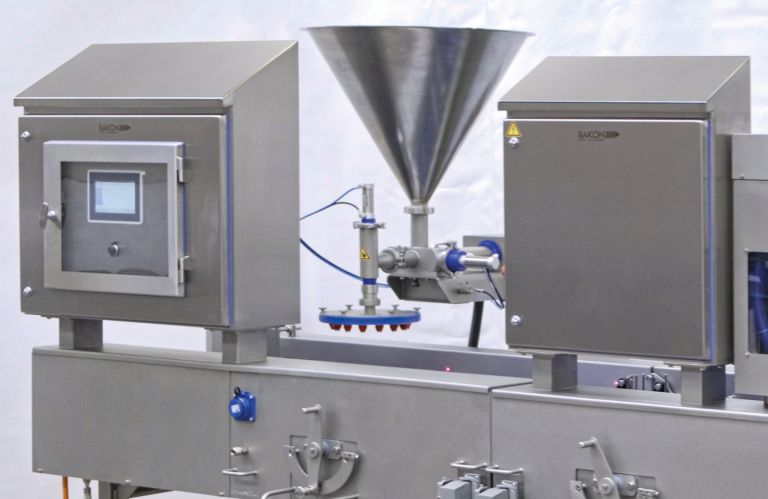 Machine cabinets are constructed of a sloped top to prevent accumulation of water and/or contamination.
The operational panels with full color touch-screens are placed behind protection doors for hygienic reasons.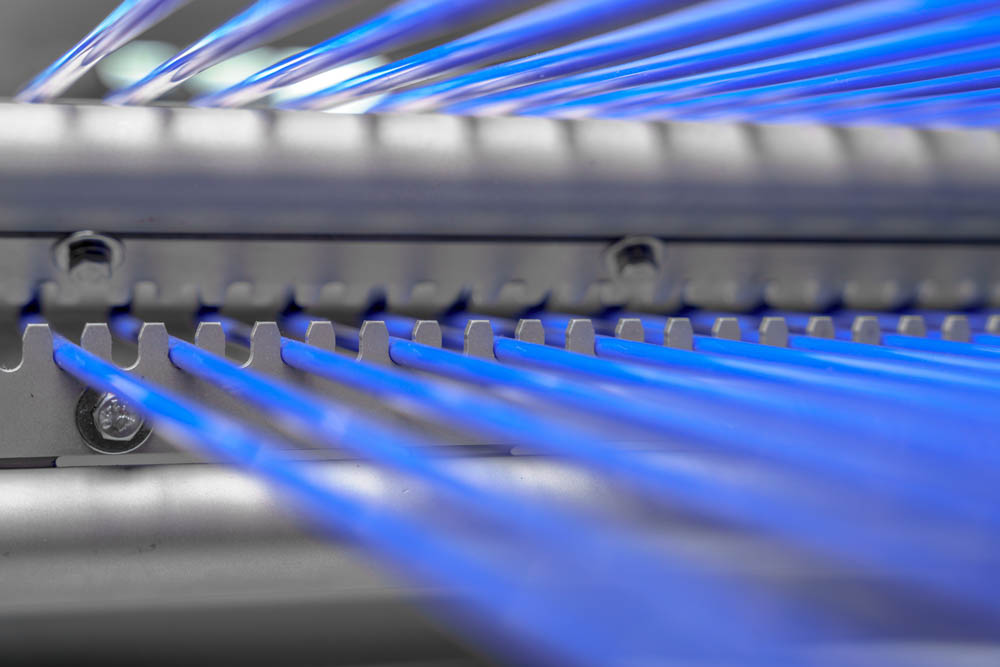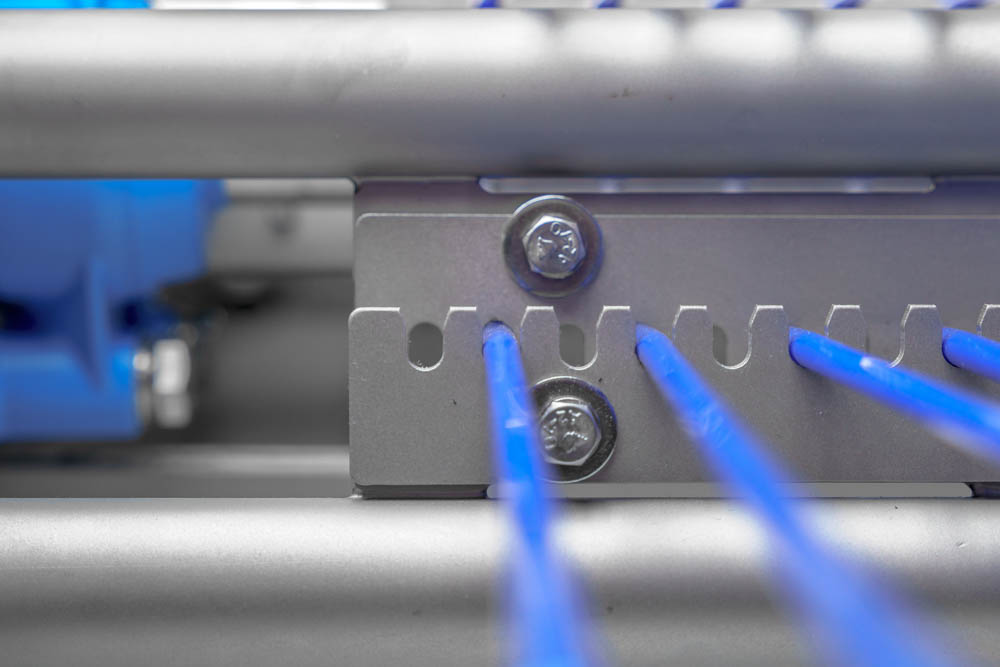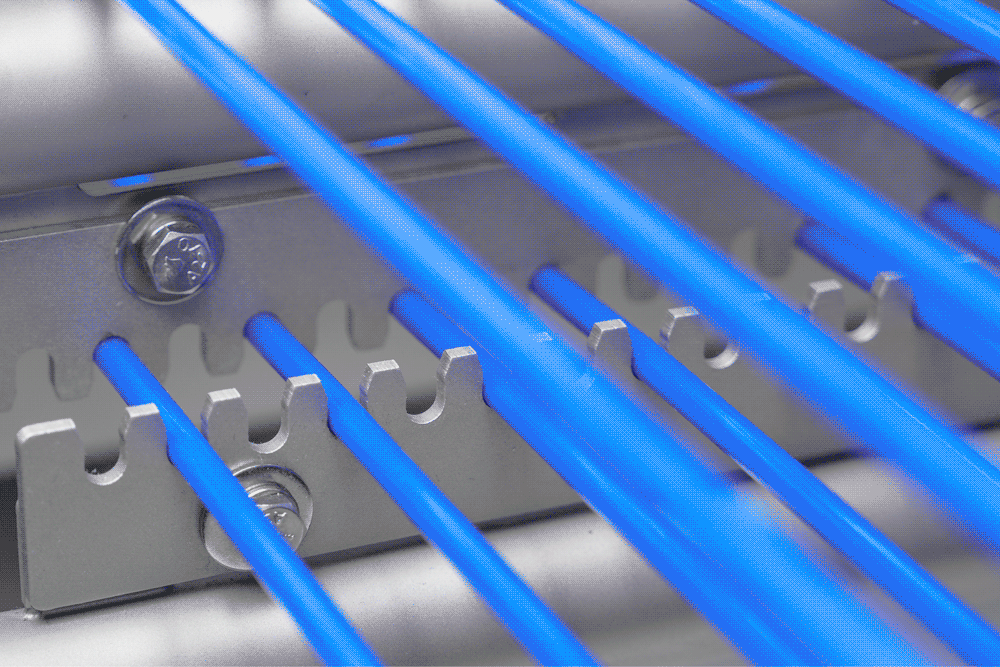 These scraping units ensure that the poly cords are cleaned of product residues. There are two available types: a fixed unit and a unit with retractable scrapers.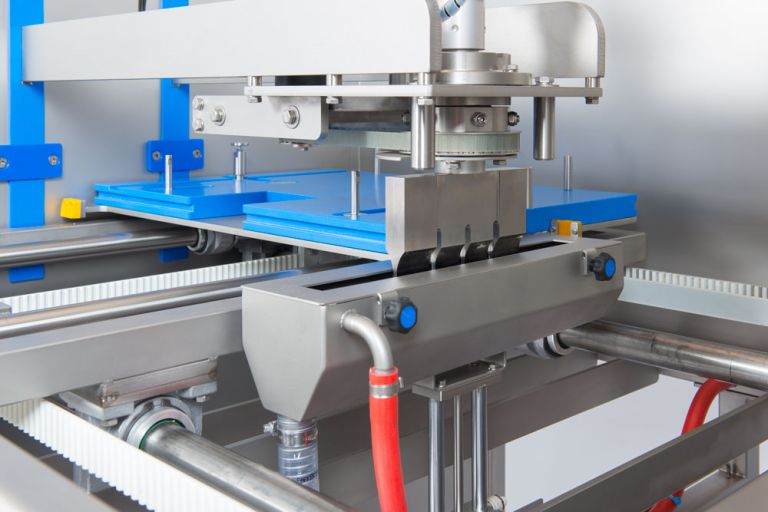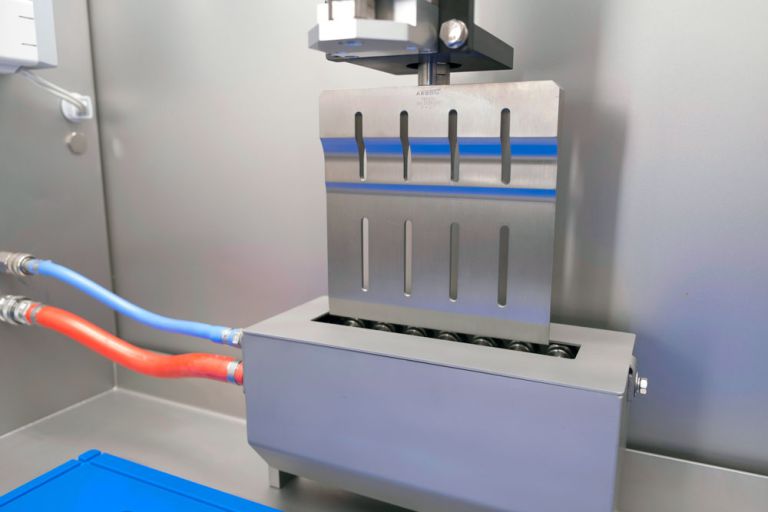 Where possible, our machines are equipped with integrated cleaning units, such as the cleaning unit of one of our ULTRASONIC CUTTING MACHINES shown above.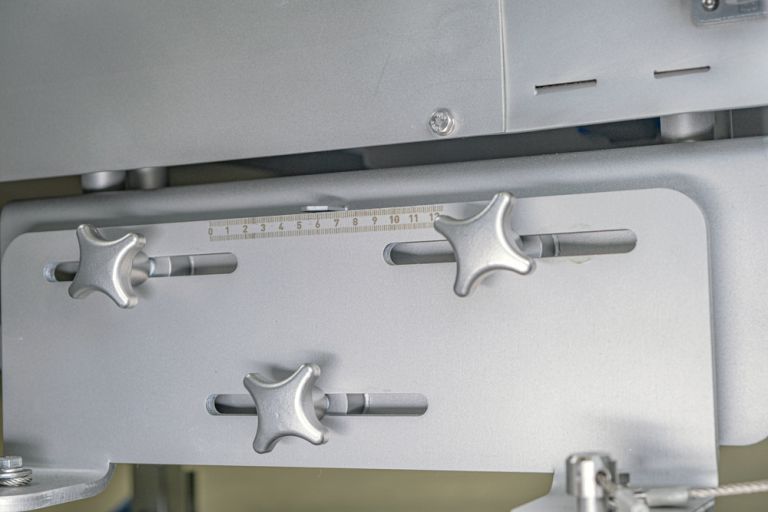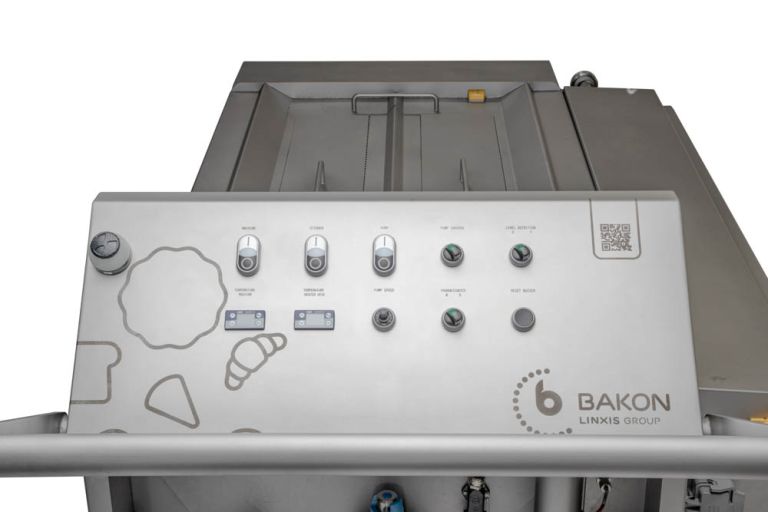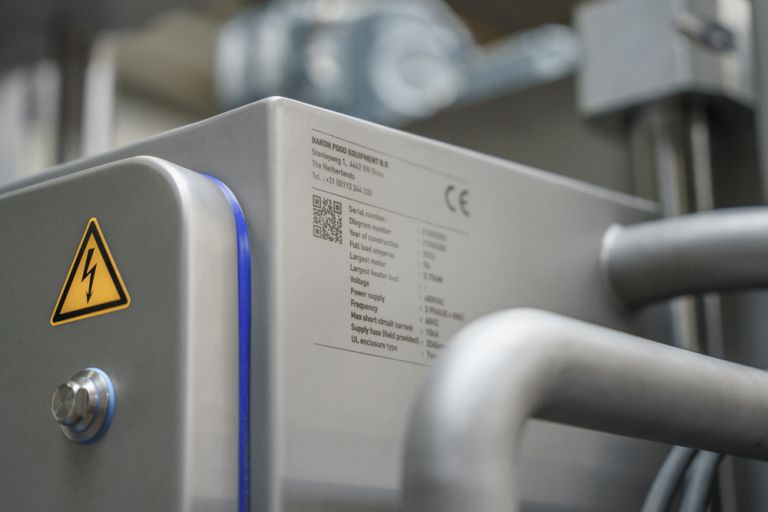 ETCHING INSTEAD OF STICKERS
Markings and decorations on our machines are etched into the surface of the machine instead of using stickers to prevent contamination.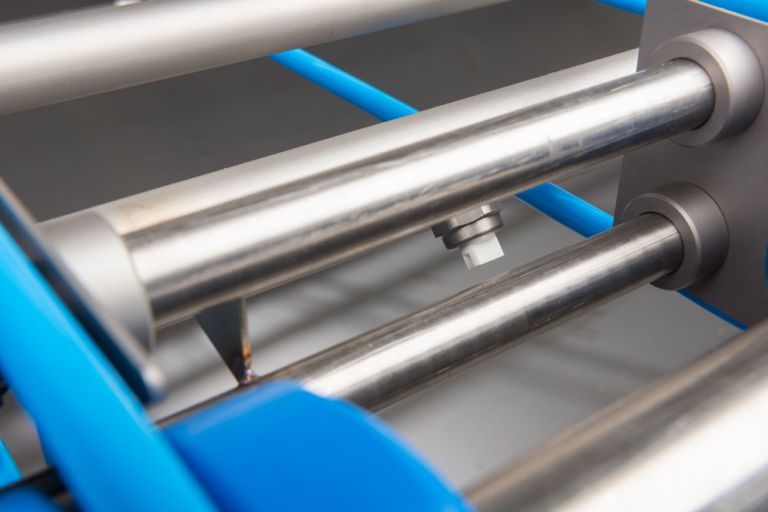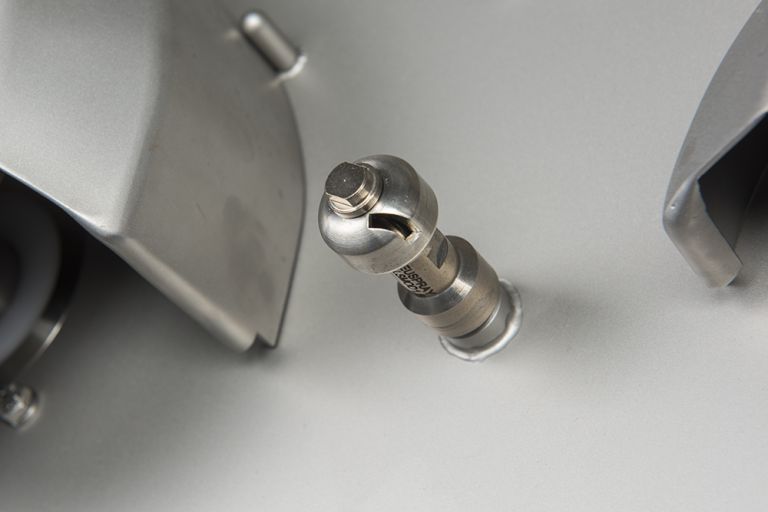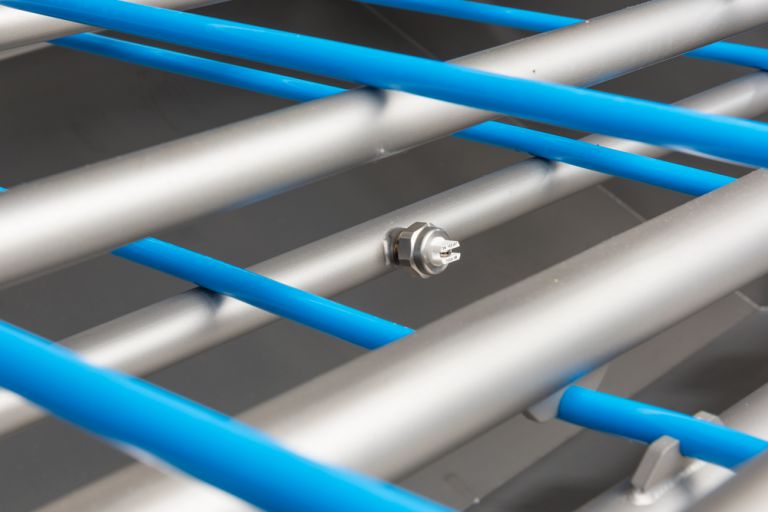 Using the built-in cleaning nozzles, machine parts can be cleaned automatically without having to disassemble or move certain parts of the machines.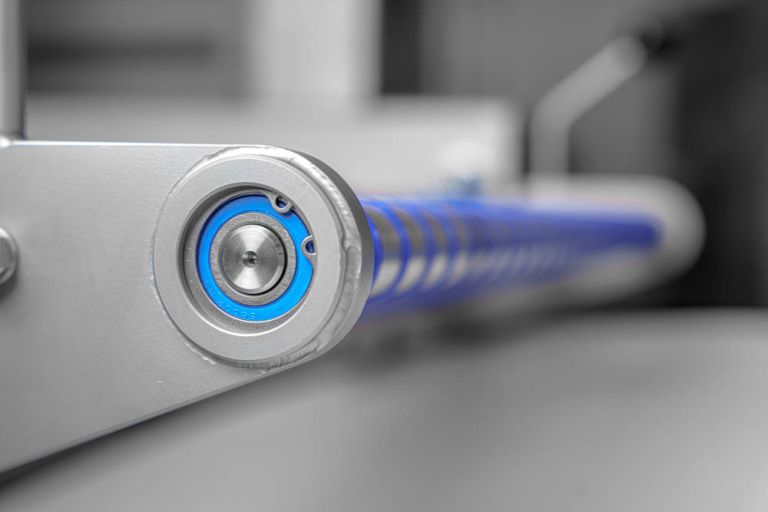 The bearings in our machines are easy to clean. Manufactured with approved and hygienic blue material and comply with all applicable industry food safety standards.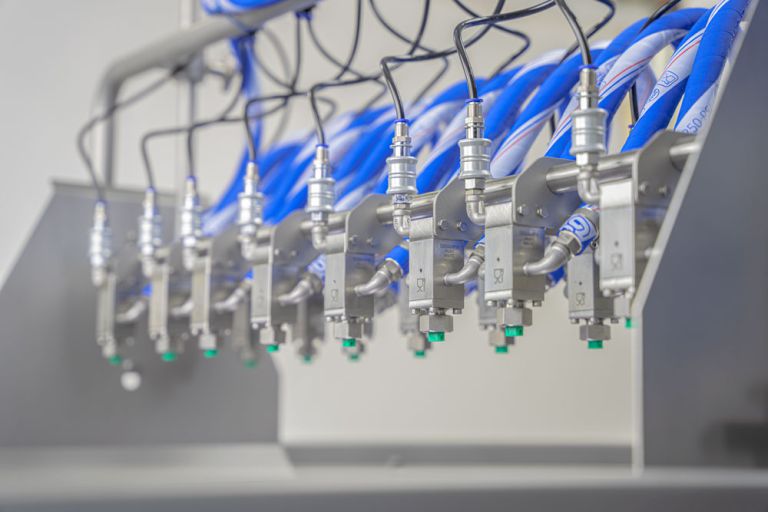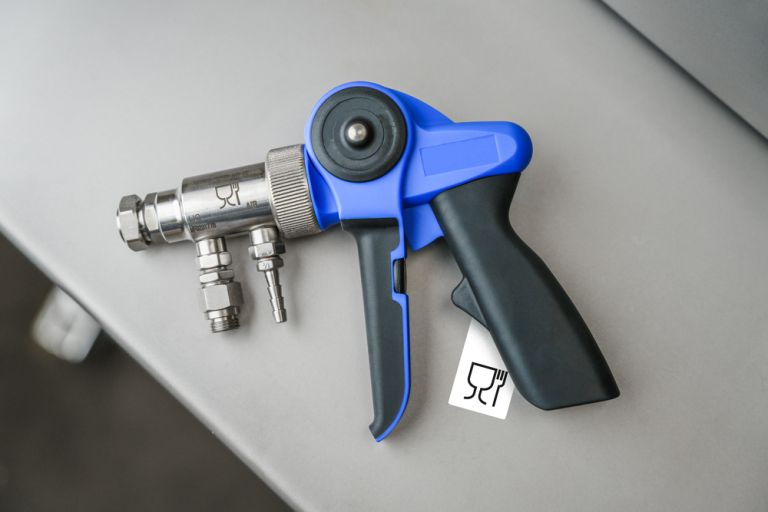 Only certified spray guns are used for our SPRAYING MACHINES, this guarantees quality and suitability for the food industry.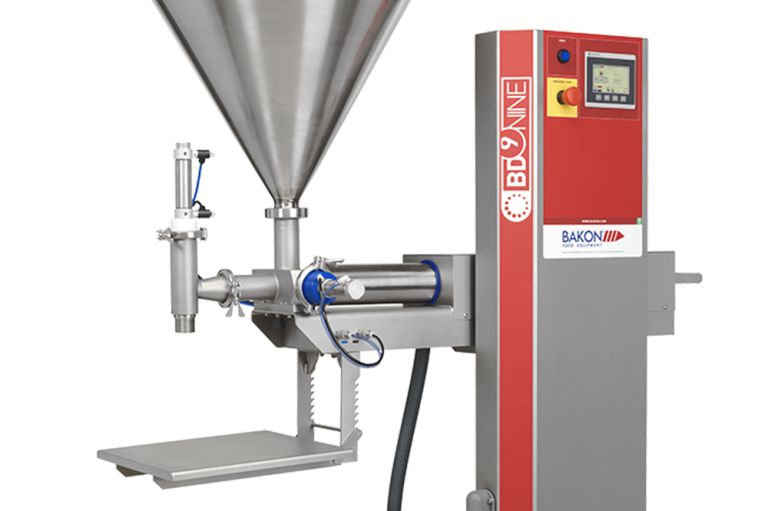 PIPING INSIDE THE MACHINE
For example the piping of the BD RANGE machines is placed on the inside of the machines, making these machines easy to thoroughly clean. In addition, all parts of these machines are dishwasher safe.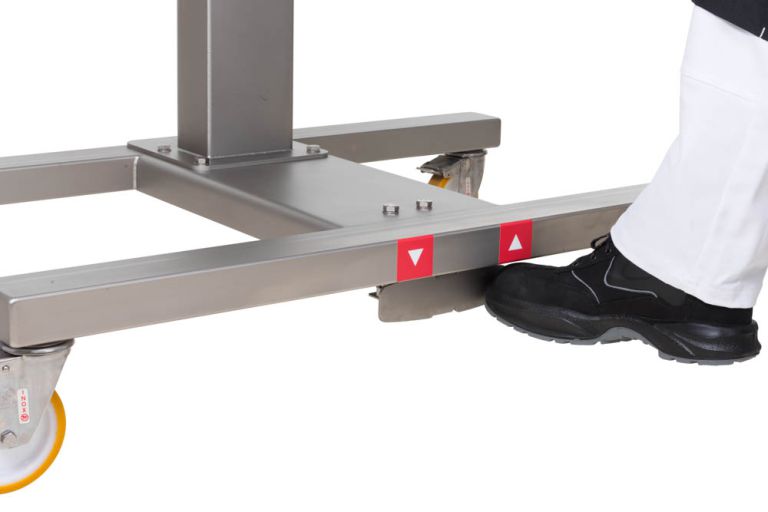 FOOT PEDAL: SAFE AND CLEAN
The use of a foot pedal simplifies operation and promotes hygiene at the same time.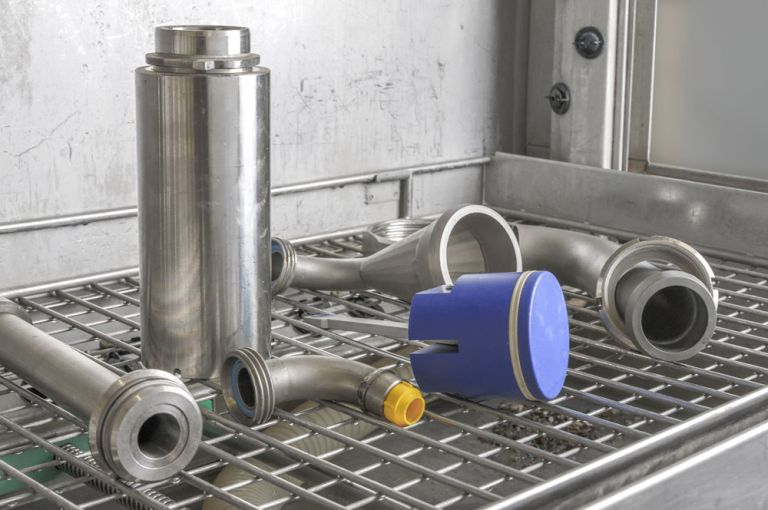 To promote hygiene, simplify cleaning and save labor time, most parts of our machines are dishwasher safe.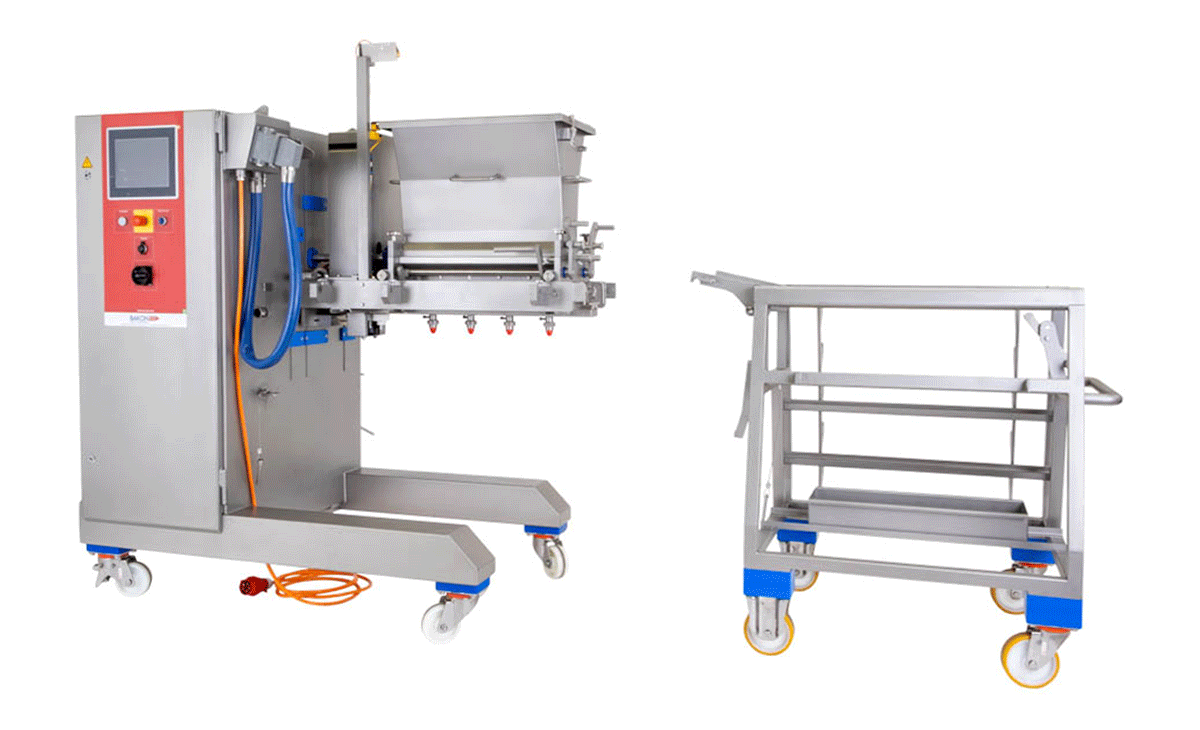 RORO SYSTEM* FOR EASY CLEANING
A RoRo system makes it very easy to change or disassamble the hopper of the GEARWHEEL DEPOSITOR for cleaning. The storage trolley is for fast and safe transport to the cleaning area.
* RoRo = Roll-on-roll-off system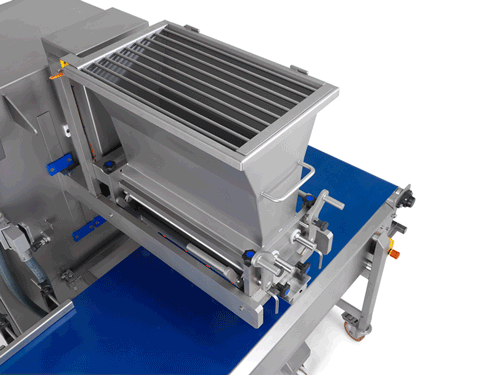 QUICK, EASY DISASSEMBLY
Quick and simple disassembly of machinery  facilitates and improves the cleaning process, thus lifting hygiene to a higher level.
discover all our machines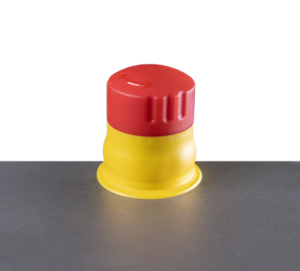 BAKON designs and manufactures
Standardized and customized
spraying machines
cutting machines
depositing machines