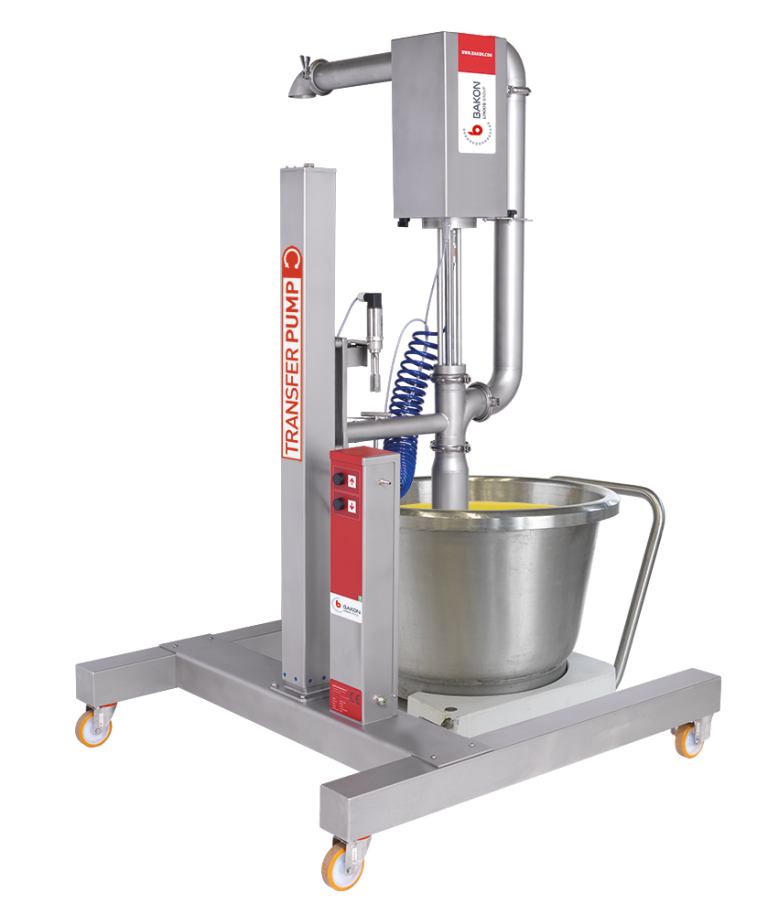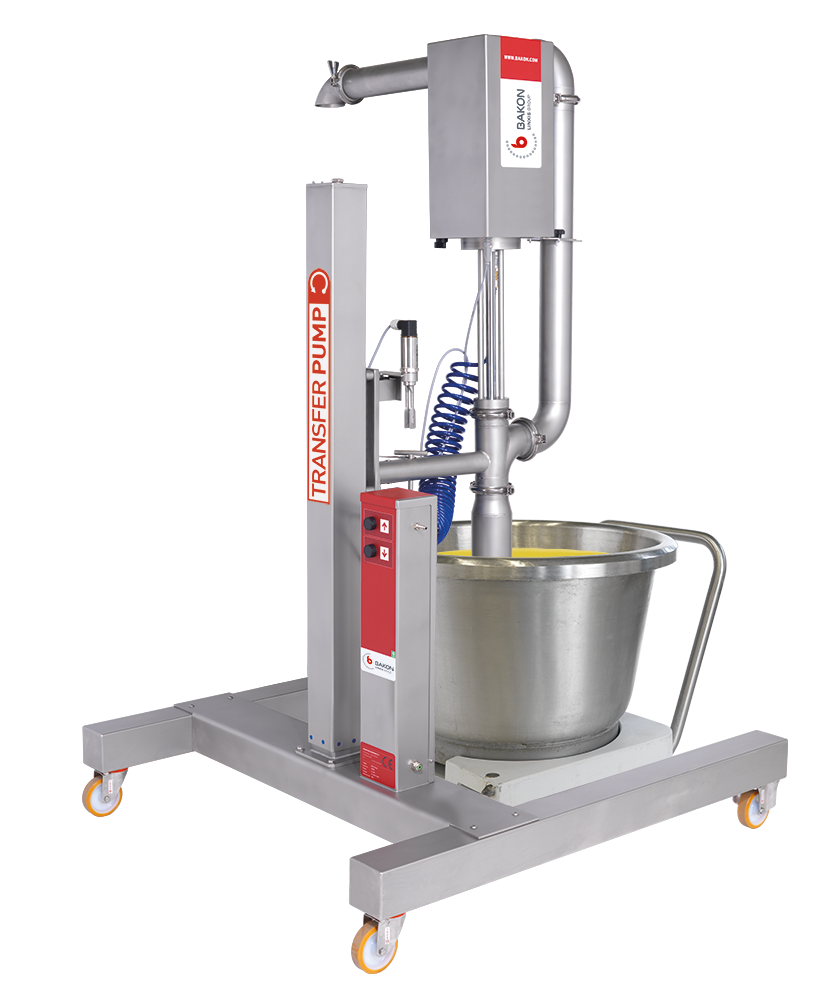 Adjustable lifting height
by pneumatic air cylinder.
1 of 4
Outlet pipe can be replaced
by an outlet hose.
2 of 4
Level sensor inside the bowl, to prevent low level or overflowing.
3 of 4
A bracket on the suction pipe prevents the pump from vacuuming.
4 of 4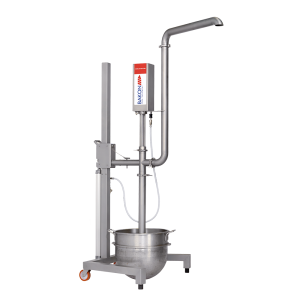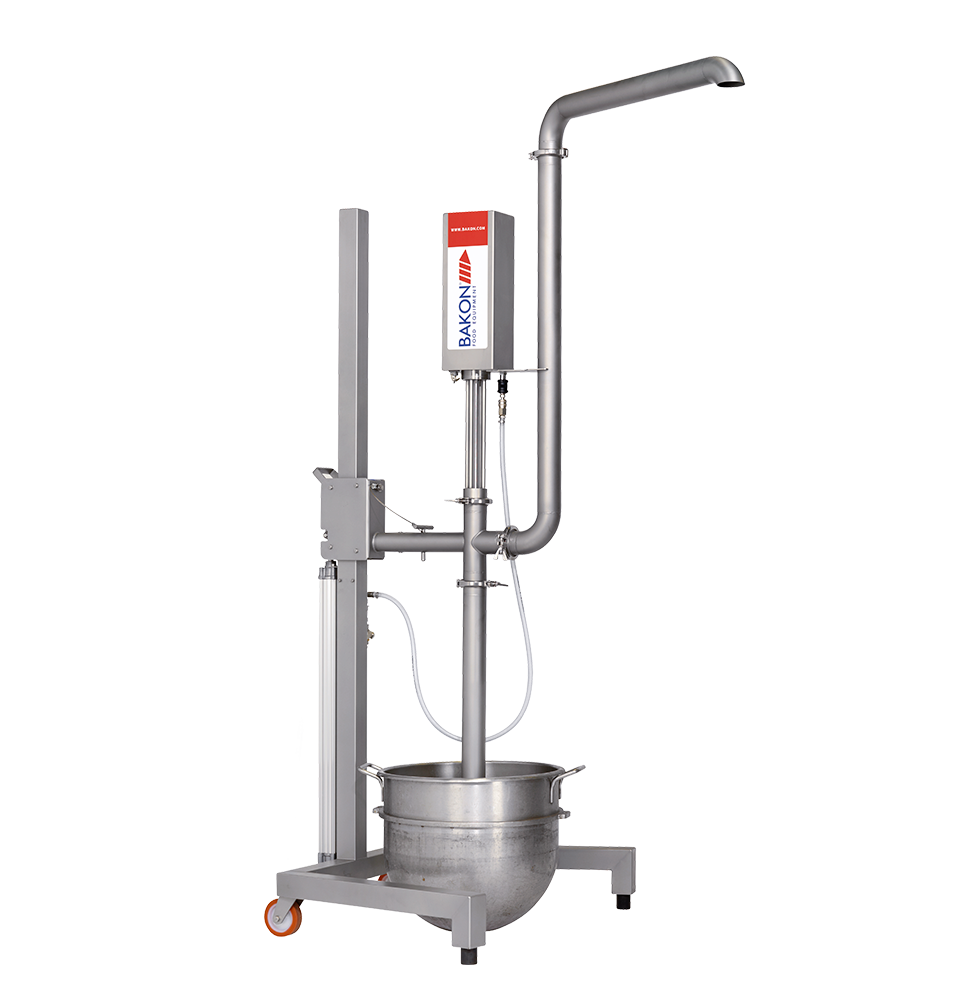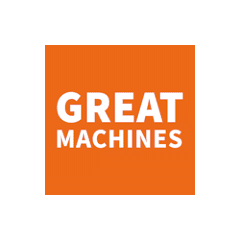 Safe and sound pumping with the
Safe and sound pumping with the INDUSTRIAL TRANSFER PUMP
The INDUSTRIAL TRANSFER PUMP is a unique mobile system designed for pumping many different types of product – without damage or loss of structure –  from one receptacle into another or into a hopper of a depositing machine.
Laborious pouring is now a thing of the past. Small size, big help!
The INDUSTRIAL TRANSFER PUMP can be used anywhere, is ready for use within minutes and is very suitable to connect to a BAKON depositor.
The INDUSTRIAL TRANSFER PUMP is highly suitable for many types of product, such as fruit fillings, fillings containing pieces of fruit e.g. apple, apricot or whole cherries, but also creams, cake batters, muffin batters, nut mixes etc. The only requirement is that the product is able to flow towards the suction entrance of the pump.
The product to be pumped is transferred from a container or bowl into the receptacle or hopper of a filling or depositing machine. This is done without damaging or affecting the texture, consistency or appearance of the products.
Insert the suction tube in the reservoir and start the pump. The pump can be switched on manual or automatically when using a level sensor in the hopper of the depositor.
Level sensor
To prevent the hopper from low level or overflowing. Pumping starts and stops automatically.
Batters, cream, cream fillings, fruit fillings (with pieces fruit, entire cherries), meat mass and mixes with nuts.
INDUSTRIAL TRANSFER PUMP
Width – 1000 mm
Lifting height – 900 mm
Suction pipe – Length 825 mm – Ø 80 mm
TRANSFER PUMP
Dimensions – 650 x 1000 x 2175-2875 mm
Lifting height – 700 mm
Suction pipe – Length 675 mm – Ø 60 mm
Output INDUSTRIAL TRANSFER PUMP
1.2 ltr./stroke at 40 strokes/min.
(TRANSFER PUMP: 0.9 ltr./stroke at 40 strokes/min.)
Operation pressure
6 bar
Air consumption INDUSTRIAL TRANSFER PUMP
1.2 ltr./stroke
(TRANSFER PUMP: 0.9 ltr./stroke)
BAKON designs and manufactures
Standardized and customized
spraying machines
cutting machines
depositing machines