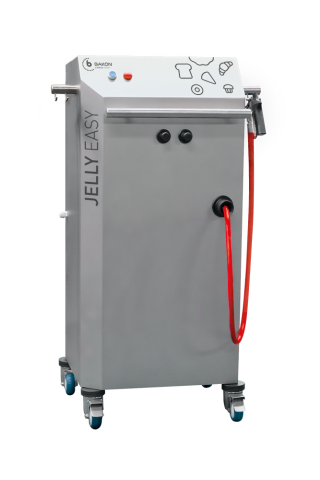 Spraygun
Spray pressure fixed 3.2 bar
1 of 2
Jeally Easy
Table Top
Jelly Easy I
Movable with 1 spray gun
Jelly Easy II
Movable with 2 spray guns
2 of 2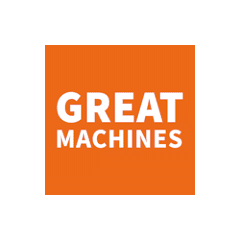 Let your products glaze and shine with the
Let your products glaze and shine with the JELLY EASY RANGE
The range of the JELLY EASY machines consists of three models: the JELLY EASY, the JELLY EASY I with 1 spray gun and the JELLY EASY II with 2 spray guns.
The JELLY EASY (Table Top) has been developed for those circumstances which ask for an easy to operate glaze spraying machine.
The JELLY EASY I and II are similar to the table top model in terms of functionality, but are movable on swivel wheels and the machine cabinet has room for two containers.
These modern machines are developed to spray all kinds of ready-to-use glaze. All spraying machines from the JELLY EASY RANGE have a good price – quality ratio.
The machine from the JELLY EASY RANGE are equipped with a basic control panel with an on/off button and an indication lamp for the heater.
The integrated heater heats up in a short time and keeps the temperature of the spraying product at a constant level.
Suction of the glaze or jelly is done directly from the container or bowl in the machine. The machine cabinets of JELLY EASY I and II can hold two product containers. These jelly machines are also movable on swivel wheels and equipped with 1 of 2 spray guns.
Various (semi-) liquid products
Jelly Easy
430 x 470 x 355 mm
Weight + 30 kg
Jelly Easy I
1090 x 570 x 430 mm
Weight + 50 kg
Jelly Easy II
1090 x 570 x 430 mm
Weight + 55 kg
Power
1.7 kW
Voltage
220 – 240 VAC
Heating capacity
1.5 kW (Jelly Easy)
2.7 kW (Jelly Easy I and II)
Spray pressure
3.2 bar
BAKON designs and manufactures
Standardized and customized
spraying machines
cutting machines
depositing machines