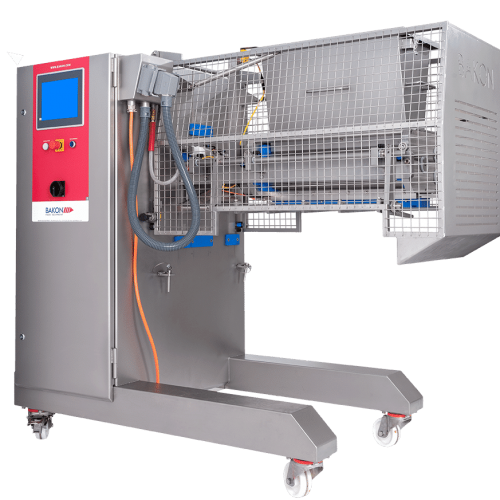 Electrical cabinet 
1 of 4
Extruder head with 1 large and 2 small rollers
2 of 4
2 rigid and 2 swivel casters with brakes
3 of 4
Touchscreen to pre-program and select up to 100 different products
4 of 4
3-ROLL EXTRUDER: Powerful, sensible and prudent!
One large and two small rollers of this 3-roller system take particularly good care of heavy types of dough and dough with particles.
Use the touchscreen to program and save your own products settings (up to 100 recipes). The correct height adjustment is extremely important to achieve the best depositing results and can also be done by means of the touchscreen. 
Customized sollutions are possible to meet all your needs!
The 3-roller sytem of the 3-ROLL EXTRUDER will give a firm and steady pressure in the extruding chamber above the mould. 
The rollers are provided with grooves. Speed and dosage amount are adjustable during production. Cleaning is easy, the funnel can be removed and the rollers can be cleaned with water.
Various (heavy) dough products
e.g. cake batter, muffin batter, with and without particles like nuts, pieces of chocolate, etc.
Voltage
3 x 400 VAC + Neutral + Ground, 50 Hz
BAKON designs and manufactures
Standardized and customized
spraying machines
cutting machines
depositing machines