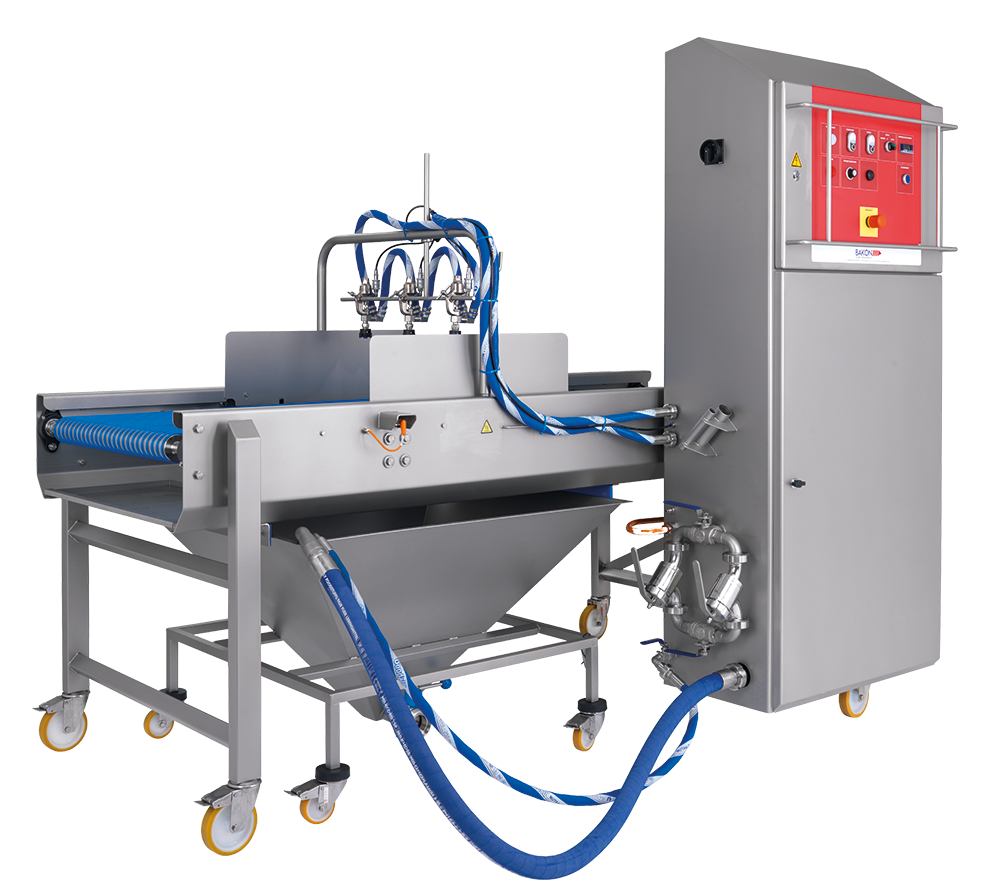 Conveyor with poly cords (or wire mesh) and adjustable speed
1 of 5
Movable funnel with eccentric disc pump
2 of 5
Clear and easy to use operating panel
3 of 5
Air pressure and spraying hose
4 of 5
Double glaze filter to prevent nozzle blockage
5 of 5
Automatic spraying with the
High-volume, automatic spraying and beautiful glazed products are the keywords of this INDUSTRIAL GLAZE SPRAYER.
It is a well-known fact that glazed products have a longer shelf life but also find their way more quickly to the consumers.
The INDUSTRIAL GLAZE SPRAYING MACHINE or INDUSTRIAL GLAZE SPRAYER has been specially developed to perfectly glaze large quantities of different shaped products. This is, of course, done with a minimum of waste or overspray.
An adjustable amount of spray guns on the in height adjustable spray bridge ensure a consistent application of glaze, jelly or jam (at the exact right temperature) on the products that pass the spray bridge.
To minimize waste and overspray, the spray guns are only actuated when products or trays are detected on the conveyor. Any overspray is collected in the funnel underneath the conveyor for re-use.
The glaze, jelly or jam is pumped from the movable funnel through an electrical spiral heater to the spray bridge above the conveyor. To guarantee an even temperature, the spray product is continuously pumped through a ring line in the machine.
Auto-filling system for a glaze tank (only possible when glaze is supplied in tanks), executed with pneumatic valve, hose and level sensor in the hopper.
Standard model
2200 x 800 x 1000 mm (l x w x h)
Conveyor speed :
8 – 16 metre / min.
Glaze output :
2 litre / min. at 85°C, 6 litre / min. when pre-heated to 55°C
BAKON designs and manufactures
Standardized and customized
spraying machines
cutting machines
depositing machines