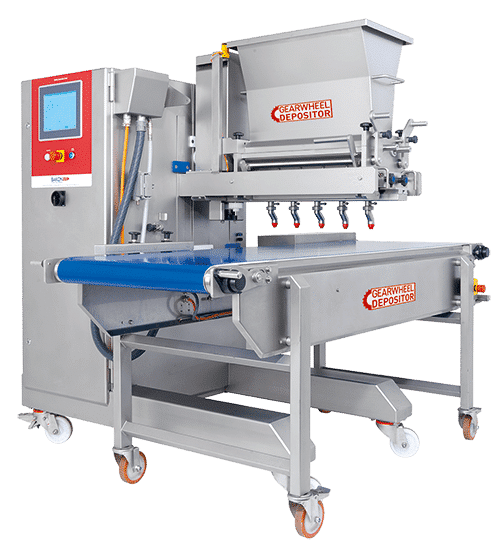 Standarized and customized spouts
1 of 3
Removable hopper
2 of 3
Conveyor belt (optional)

3 of 3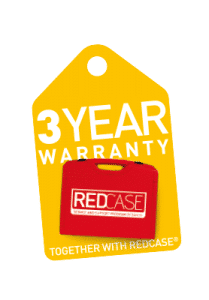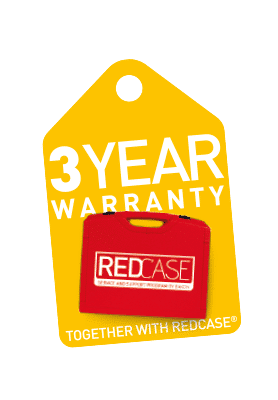 High capacity dosing is done with the
GEARWHEEL DEPOSITOR: high capacity depositing
The GEARWHEEL DEPOSITOR enables you to process a very wide range of different products and reaches a high production speed together with a guaranteed high level of accuracy.
This industrial bakery machine is available in any desired working width up to 1200 mm (larger available on request). The standard machine comes on a C-frame; machines with a working width above 800 mm are built on an H-frame.
Sophisticated software allows you to create your own recipes for your products. Entering and changing various parameters is easily done with use of the 10 inch full colour touch screen.
The GEARWHEEL DEPOSITOR is used for accurate depositing of your products. High accuracy in depositing is reached by control of the turning angle of the stainless steel gears of the gearwheel pump. To prevent the nozzles from dripping the gears can be turned backwards to release the pressure from the nozzles.
A large electrical cabinet with the frequency controllers of the gearwheels and all other electrical components is placed on the side of the machine.
Cleaning of the machine is easy, gears and funnel can be removed without the use of any tools.
The GEARWHEEL DEPOSITOR is also available in a heated execution.
A complete heating system is integrated in the cabinet for the mechanical components and is executed with a heating element, a pump and a ring line to pump water of the required temperature through the gearpump, the hopper and the template (optional, depending on the product).
Very liquid to very heavy products
e.g. cream, mousse, soft cheese, eclair, macarons, biscuit and cake batter.
Voltage
3 x 400 Volt AC. 50 Hz + ground
Power supply
+ 5 kW
Air supply
25 ltr. / min.
Air pressure
6 bar
Secure your production and reduce machine downtime with the RedCase of Bakon!