Automation provides smart solutions for complex problems
Take the next step and discover the opportunities that BAKON's smart machinery can offer you!
How to save on labor costs
Overcome labor shortages and upscale your production at the same time with automation and advanced software. By automating repetitive and labor intensive tasks, we are constantly improving the accuracy and operational efficiency of our production lines.
Employees can be relieved of monotonous work and can be assigned to more challenging tasks so they can be of more value to your company.
Far-reaching automation enables you to continue to meet the ever-increasing wishes of your customers and the demand for more flexibility. In addition, hygiene and safety are better secured.
Turnkey solutions for you
With decades of experience in the confectionery industry, we know your needs, wishes and demands and can offer you the best solutions. 
A turnkey approach takes a lot out of your hands. Errors, loss of time and cost overruns are prevented because BAKON takes care of the entire process from inventory and design to realization of the entire production line.
BAKON is your partner in customized and turnkey solutions to optimize your production processes. 
Smart factory & Smart industry
Are you also increasingly looking for solutions for complex production issues? Look into BAKON'S smart machines!
Far-reaching automation and working according to the Industry 4.0 protocol enables BAKON to offer many turnkey solutions for the increasingly specific wishes and complex problems of her customers. BAKON's step to smart industry and manufacturing enables her customers to continuously optimize their production processes.
What do you choose: Robot or Cobot?
While a robot is suitable for repetitive tasks without human control and no need to 'think', is a cobot an artificially intelligent robot that performs tasks in collaboration with your employees.
A robot or a robotic arm is used, for example, to relieve your employees from the monotonous and time-consuming work of placing baking trays on a conveyor belt. The robot will perform this repetitive action quickly and without errors.
A cobot's main advantage is its flexibility to adapt its movements to changing tasks like greasing various baking trays in different spots on the conveyor belt. The cobot detects where the baking tray is situated on the conveyor belt and moves to the correct position to grease the tray without overspray.
TAKE THE NEXT STEP TO NEW OPPORTUNITIES
WITH SMART PRODUCTION LINES AND TURNKEY SOLUTIONS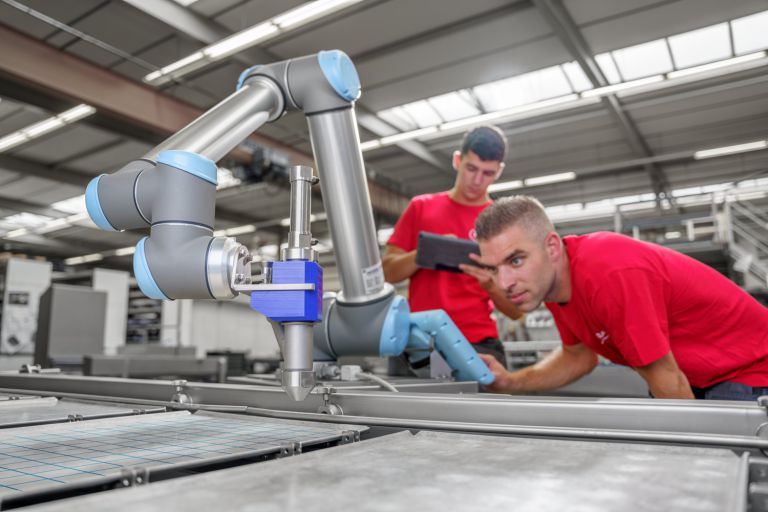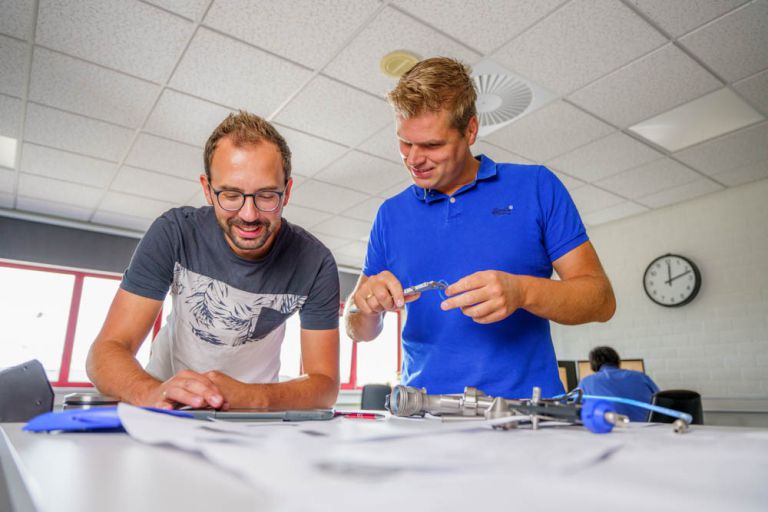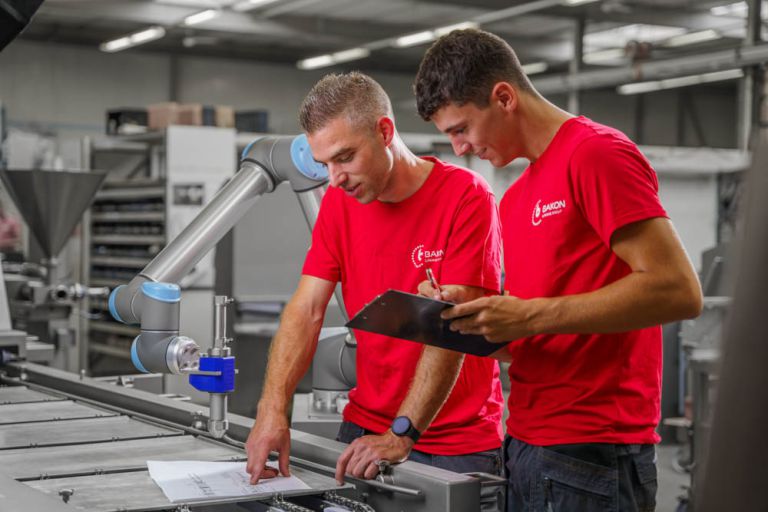 Benefit from our in-house team of experts
Our highly experienced in-house team members each have their own knowledge and expertise, making the team as a whole excellently qualified to offer you suitable solutions for your complex issues.
With their collective knowledge of automation and software, they can guide your projects from start to finish. Carrying out the work in-house provides several advantages: it improves quality, continuity and efficiency that benefits you as a customer. And for communication you only have to remember one phone number!
Save costs with preventive maintenance
Smart machines are continuously being monitored which offers major advantages for your machinery and enables you to save on production and operational costs.
The constant exchange of data facilitates the transition from costly corrective maintenance to more cost-effective preventive maintenance. Expensive repairs and unnecessary costs are avoided because machines preventively indicate when maintenance is necessary. Downtime is reduced to a minimum, so production capacities remain at the desired levels. Performing preventive maintenance also helps to extend the lifespan of your BAKON machinery.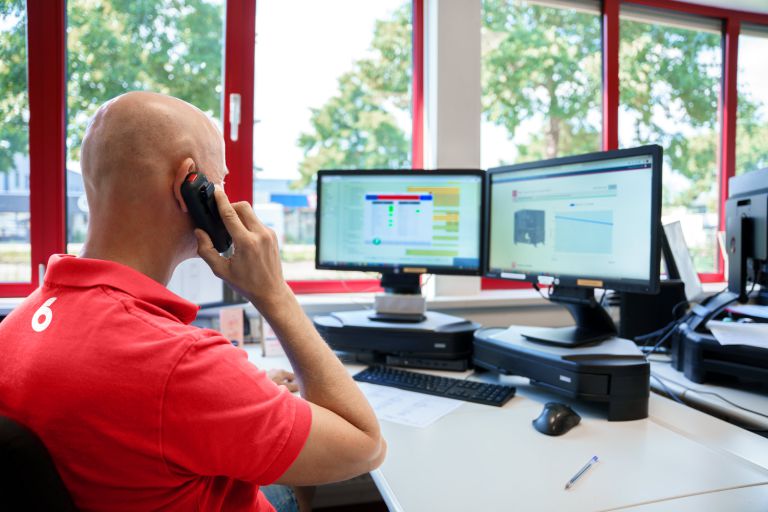 Please fill in the form and we will contact you
BAKON designs and manufactures
Standardized and customized
spraying machines
cutting machines
depositing machines