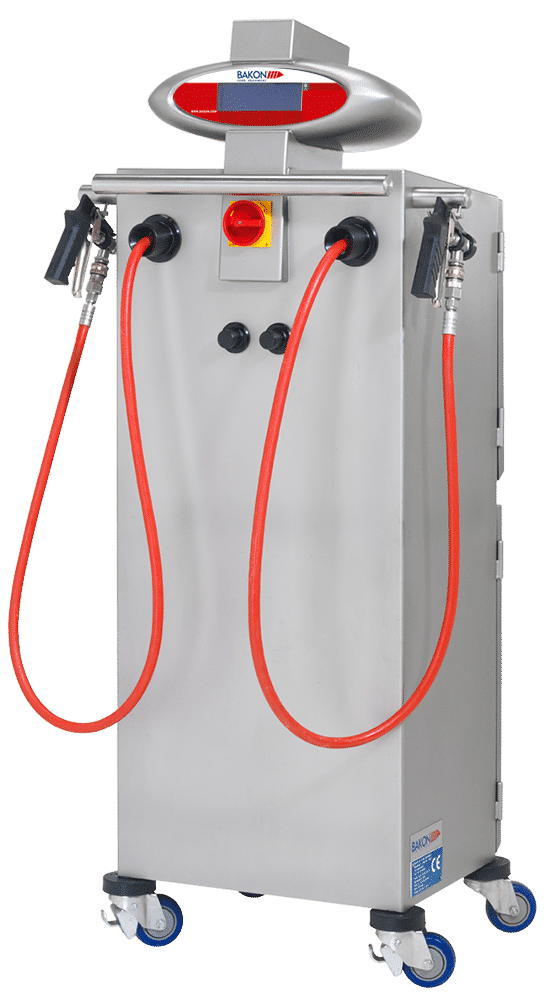 Spraygun
Spray pressure fixed 3.2 bar
1 of 2
JELLY SATELLITE I:
with 1 spray gun
JELLY SATELLITE II:
with 2 spray guns
JELLY SATELLITE T (Twin):
with 2 spray guns and 2 separate heating systems
JELLY SATELLITE TP (Twin Power):
suitable for semi-industrial use
JELLY SATELLITE MA I:
suitable for thick marmelades
JELLY SATELLITE MG:
with 2 spray guns, one for glaze and one for marmelade
JELLY SATELLITE HC:
for hot and cold products
2 of 2
Fully in control with the
Fully in control with the JELLY SATELLITE RANGE
The JELLY SATELLITE is characterized by its striking design. This jelly machine is available is various executions and takes essential requirements into account such as easy operation and cleaning.
The well organized control panel makes the JELLY SATELLITE easy to use and provides actual information on temperature and spraying pressure.
Among the available models you surely will  find the JELLY SATELLITE that meets your requirements.
The JELLY SATELLITE is equipped with a display with 4 control keys. The displays shows the set values for each function and also provides information about the actual spraying pressure and temperature of the glaze and heated hose.
Technically the JELLY SATELLITE MA I differs not much from the JELLY SATELLITE I. The difference is in the suction part of the machine. The suction part is equipped with a larger pipes to make it possible to spray thick marmelades.
The same is applicable to the JELLY SATELLITE MG and the JELLY SATELLITE II.
​All-ready-to-use glazes, jams and marmelades
JELLY SATELLITE GROWING CONCEPT
The GROWING CONCEPT consists of a JELLY SATELLITE TWIN POWER connected to a movable belt conveyor of 400 or 600 mm width. The conveyor is executed with a quick changing system to change from a standard spray gun to an automatically operating spray gun. The conveyor can be extended with product signaling and a stopper.
Key features:
• Quicker and more efficient
• System adapts to the quantity of material used
• Progressive investment
BAKON designs and manufactures
Standardized and customized
spraying machines
cutting machines
depositing machines