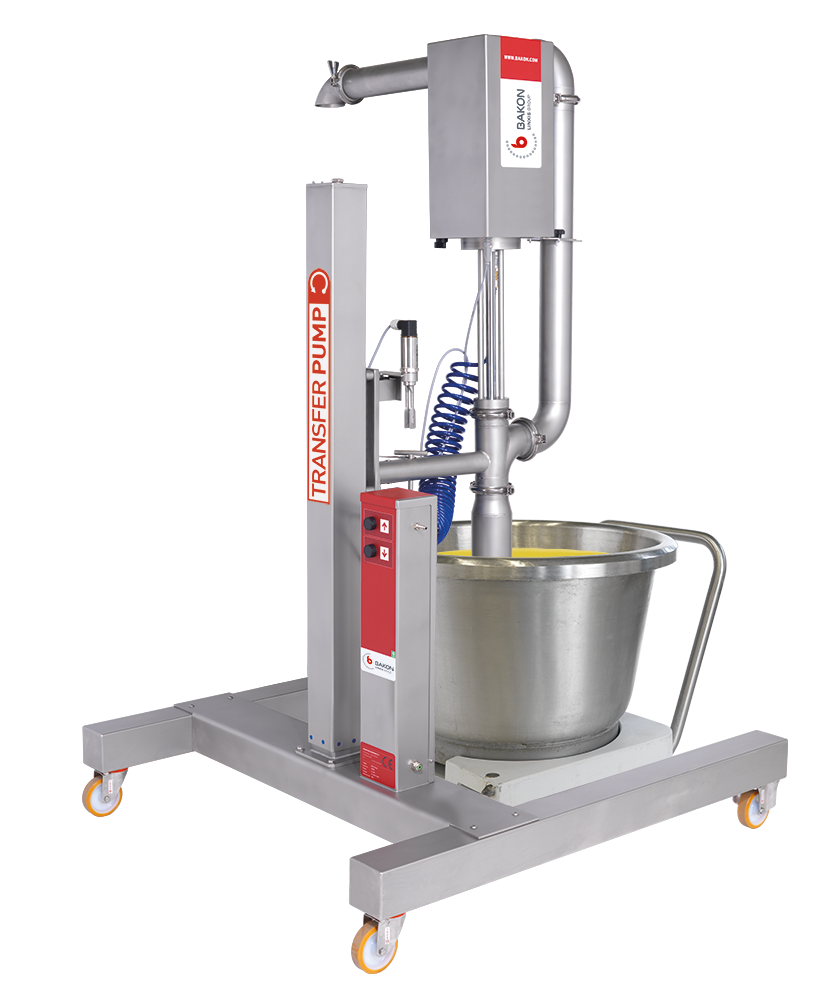 SUCTION AND TRANSPORT PIPE
The suction and transport pipe are executed with quick connectors for easy cleaning.
1 of 6
LEVEL SENSOR (OPTION)
An optional level sensor can be mounted on the edge of the hopper of the DEPOSITOR to maintain the content at the desired level and to prevent the hopper from overflowing.
2 of 6
MOVABLE CONTAINER
This can be any type of mixing bowl or receptacle.
3 of 6
MOVABLE U-FRAME The TRANSFER PUMP is mounted on a movable U-frame with swivel casters.

4 of 6
PUMPING SYSTEM
The pumping system is lowered and lifted by means of a pneumatic cylinder.
5 of 6
PNEUMATIC UP AND DOWN MOVEMENT
Easy lifting and lowering of the pumping system by means of two buttons.
6 of 6
No more heavy lifting to add liquids, dough or batter!
Work efficiently with the TRANSFER PUMP
The INDUSTRIAL TRANSFER PUMP is a unique mobile system
for the pumping of many different types of product
from a bowl into the hopper
– without damage or loss of structure –
Use your workforce efficiently for other production processes and let the TRANSFER PUMP refill the hopper effortlessly.  
No more laborious and time-consuming pouring
No more interruptions due to container filling
Manpower can be deployed elsewhere in the production process
The TRANSFER PUMP pumps up all kinds of semi liquid products, such as fruit fillings, batters, cream, etc, without effecting or damaging the texture or shape of these products.
Simply position any type of mixing bowl or other receptacle underneath the pumping unit.
An optional Level Sensor can be mounted on the edge of the hopper of the DEPOSITOR to maintain the content at the desired level.
The TRANSFER PUMP will automatically start refilling the hopper when the a low level is detected. 
Make your TRANSFER PUMP smarter with a Level Sensor.
Protection against vacuum sucking
The end of the suction tube is equipped with a bracket to avoid vacuum sucking.
Daily cleaning can be carried out fast and efficient because of the quick connectors for fixing and unfixing the suction and transport pipe.
Pneumatic height adjustment
The height adjustment of the pumping unit is carried out by means of a pneumatic air cylinder.
Level up your production process by configuring you own production line
Simply turn a BAKON DEPOSITOR with an (existing) conveyor into a small production line by adding an INDUSTRIAL TRANSFER PUMP.
Need more info to make your choice?
Please fill in the form and we will contact you
BAKON designs and manufactures
Standardized and customized
spraying machines
cutting machines
depositing machines