Expanding and scaling up your production is crucial to meet increasing demand and staying ahead of the competition.
BAKON offers automation solutions to expand your production
The MULTIFUNCTIONAL DEPOSITING LINE
This versatile and automatic MULTIFUNCTIONAL DEPOSITING LINE is designed to produce a wide range of products on an industrial scale. This makes it possible to meet fast-changing customer preferences and market trends. Its user-friendly design allows easy product changes, saving time and increasing productivity.
This MULTIFUNCTIONAL DEPOSITING LINE shows the possibilities automation offers when it comes to expanding production capacity and simplifying product changes. And this, of course, without compromising product quality.

The RELEASE AGENT SPRAYER provides the trays and molds with a perfect spray. The spray hood contains 4 – 25 adjustable spray guns that guarantee very efficient spraying. Overspray and pollution is limited and results in a substantial reduction of release agent or oil.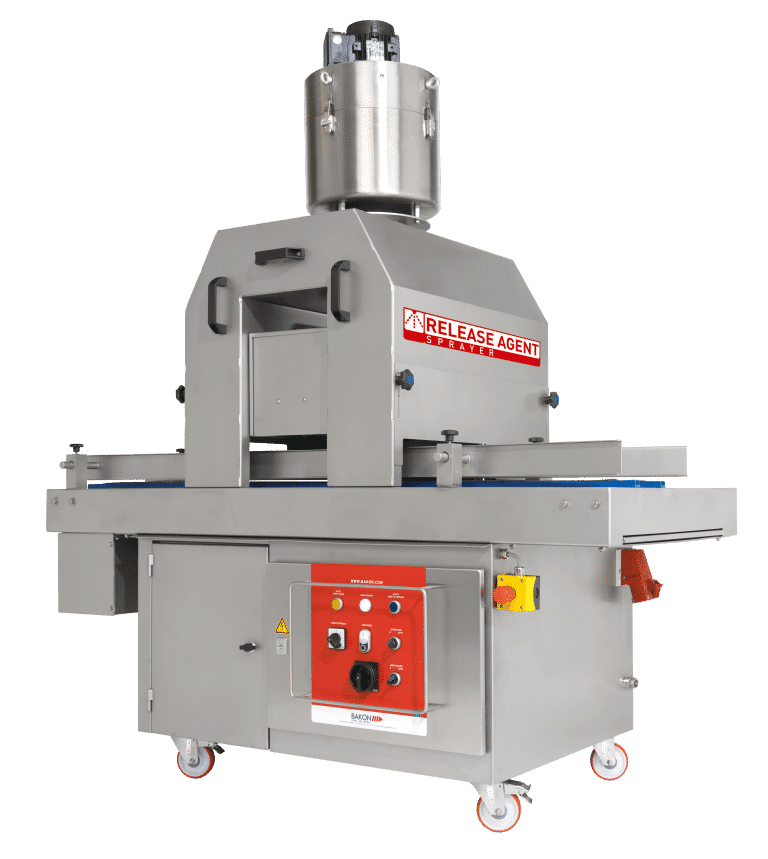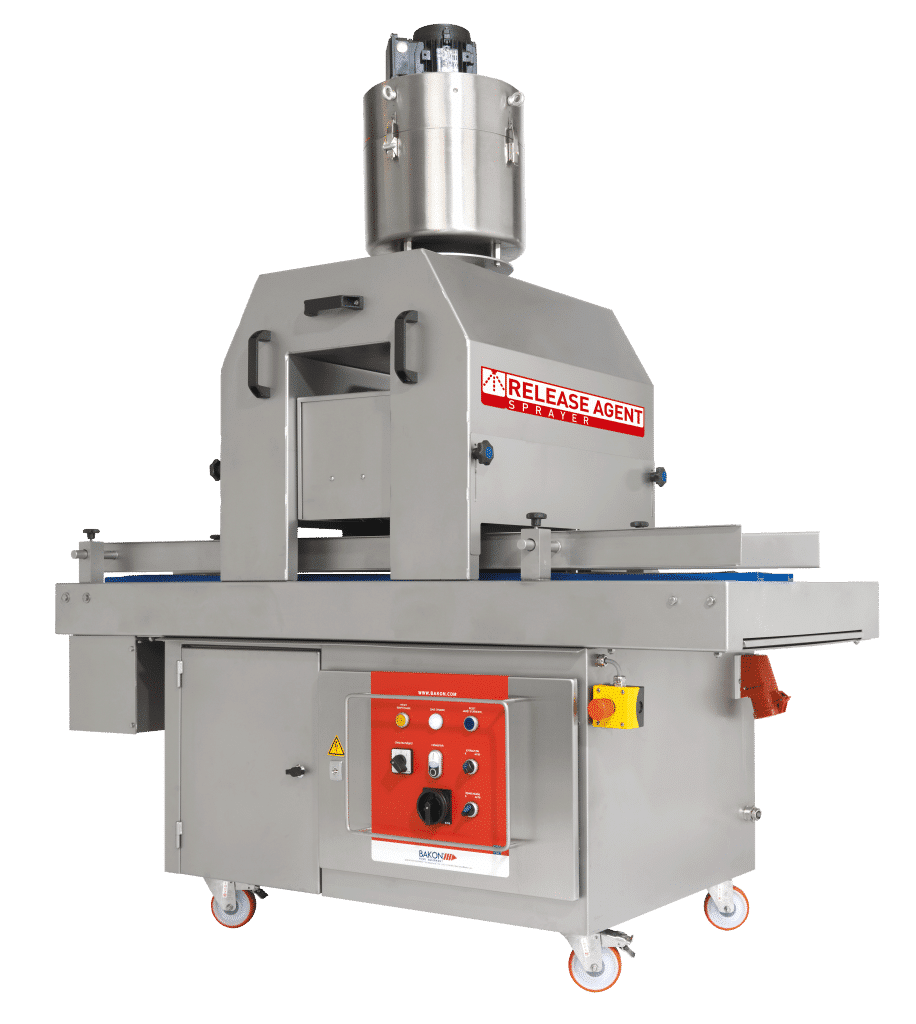 This high-capacity GEARWHEEL DEPOSITOR with HMI operator panel and stainless steel gears is able to process a wide range of products at a high production speed with a high level of accuracy.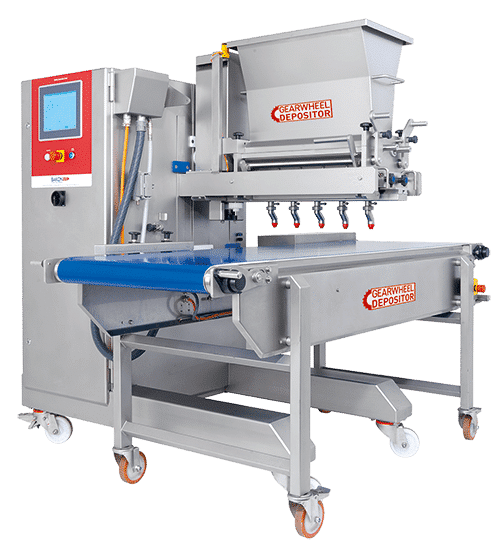 Perfect and easy spraying
The JELLY EASY with integrated heater and compressor keeps the temperature of the spraying product at a constant level. Suction is done directly from the container inside the machine.  
With a COBOT ARM, the BD9 becomes an intelligent DEPOSITOR capable of dispensing different products in e.g. (diagonal) stripes, dots or other shapes.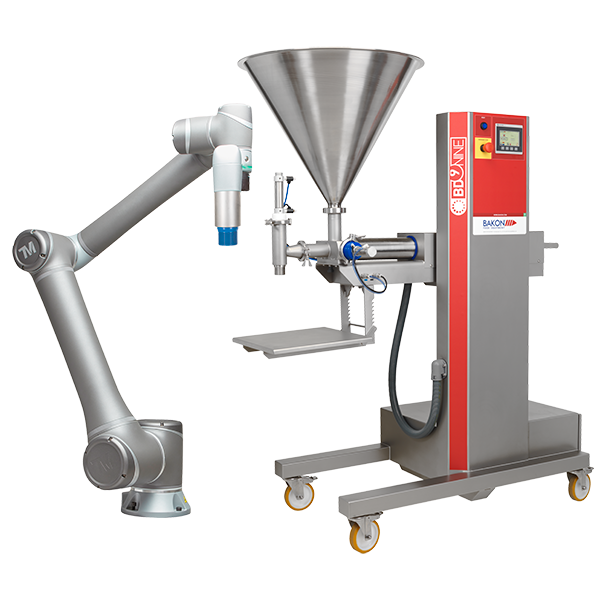 This robust and heavy-duty PISTON DEPOSITOR is a servo operated machine with a pneumatic operated dosing bridge and a continuously variable dosing volume. The PISTON DEPOSITOR complies with the latest technology.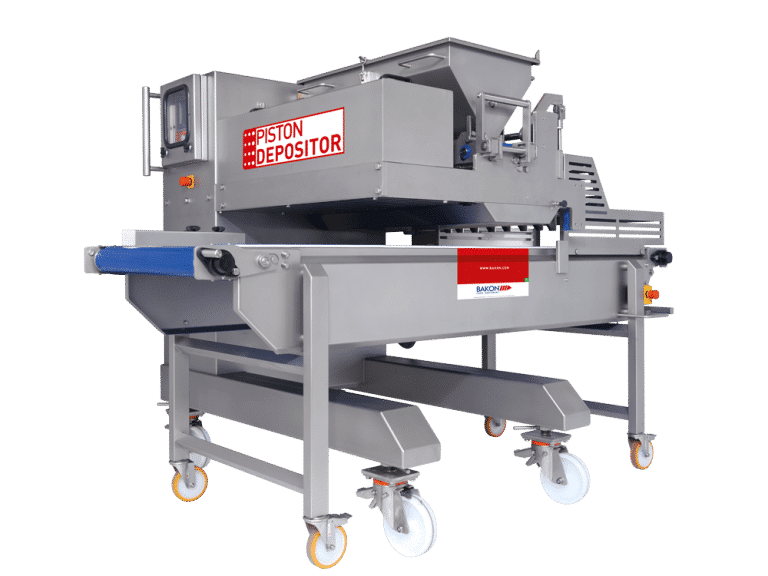 Our endless DISC SPRAYERS
The BAKON DISC SPRAYERS (with 2 to 10 or more discs) are designed to take your production at an industrial scale
Whether you want to grease baking trays or provide endless rows of croissants with a shiny coating, our DISC SPRAYERS ensure clean, fast and perfect execution in all cases.
In addition to our standard DISC SPRAYERS, we offer  customized and tailor made solutions especially for (very) large numbers of discs and working widths. The DISC SPRAYERS are well suited to be incorporated into our automated production lines.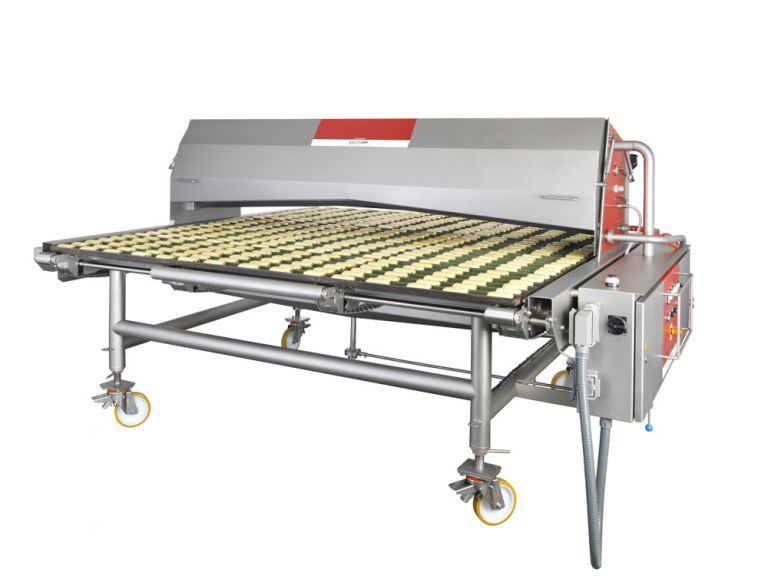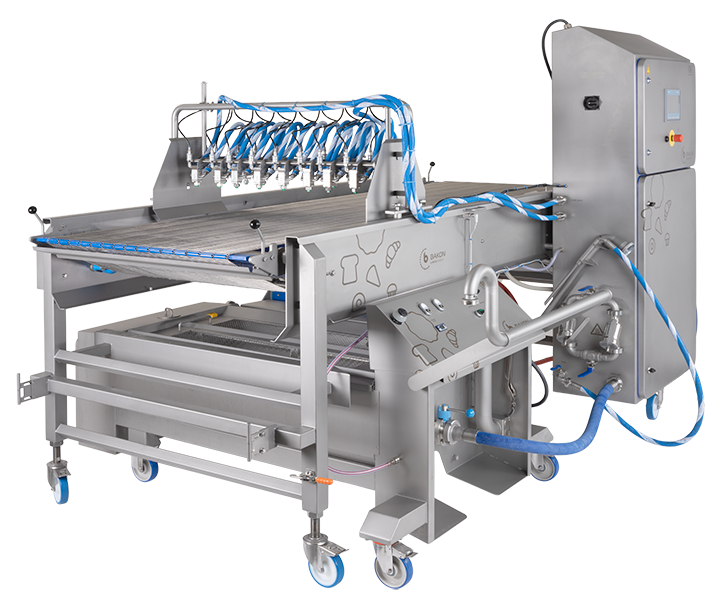 High-volume INDUSTRIAL GLAZE SPRAYER
This INDUSTRIAL GLAZE SPRAYER  has been developed to glaze large quantities of products in all shapes and sizes.
An adjustable amount of spray guns on the in height adjustable spray bridge ensure a consistent application of (heated) glaze, jelly or jam. Loss of product is kept to a minimum as overspray is collected for re-use.
The DIPPING LINE increases your production capacity and results in beautifully dipped and decorated products.
Enjoy the benefits of this fully automatic Dipping Line, which is equipped with a Au bain Marie Dipping unit, a Drizzle unit and a Strewer. This results in perfectly decorated products that will quickly find their way to consumers.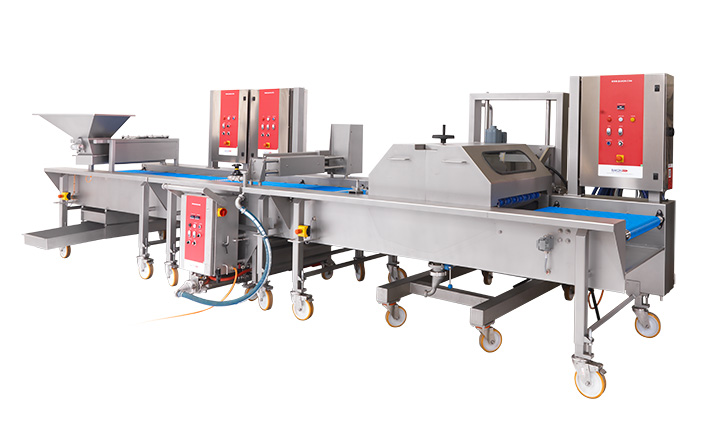 Automation expands the quality and capacity of this
PRODUCTION LINE for energy bars
A tailormade and turnkey automated solution for the high-capacity production of energy bars, with among others, a DEPOSITOR, serveral deocration units and an ULTRASONIC CUTTING MACHINE.
A turnkey approach takes a lot out of your hands. Errors, loss of time and cost overruns are prevented because BAKON takes care of the entire process from inventory and design to realization of the entire production line.
With decades of experience in the confectionery and food industry, we know your needs, wishes, and demands and can offer you the best solutions. 
BAKON also specializes in ULTRASONIC CUTTING MACHINES
Please fill in the form and we will contact you