Freezing is of course a main topic when talking about Frozen Confectionery, but with the realization of perfect frozen products Depositing and Cutting play respectively an important role before and after the freezing.
BAKON has a long history of providing tailormade equipment for DEPOSITING and CUTTING. Starting with BD-DEPOSITORS up to complete Industrial Lines with GEARWHEEL or PISTON DEPOSITORS. For cutting your Frozen Confectionery we have a wide range of ULTRASONIC SLICERS
with adjustable cutting power to cut your products in any desired shape or pattern.
Discover some of the many solutions for Frozen Confectionery
Use, for example, a GEARWHEEL DEPOSITOR, a PISTON DEPOSITOR or a depositing line with several BD9 DEPOSITORS in a row for the (multi layered) depositing of your products before freezing. 
Full production line with freezing tunnel
Produce frozen confectionery in a labor and cost saving manner with this industrial production line.
Depositing, freezing, cutting and finishing are done in one continuous production process. 
In this production line three GEARWHEEL DEPOSITORS are being used for the depositing before freezing, 
while an INLINE ULTRASONIC SLICER takes care of the slicing after freezing the products.
The INLINE ULTRASONIC SLICER (as all of our ULTRASONIC SLICERS) is perfectly capable of cutting your frozen products into any desired shape or dimension.
Multifunctional Dessert Line

The MULTIFUNCTIONAL DESSERT LINE is capable of producing all kinds of desserts, with different layers and lay-outs.
The modular design makes different set-ups  easily possible.
The production line consists of several Spraying, Depositing and Injecting bridges to build up the different layers of the desserts.
Depositing of your desserts can be done by one or a few DEPOSITING MACHINES. Possibly supplemented with a Spraying or Pressing unit.
Cakelines for multilayered cakes
BAKON has developed a wide range of CAKELINES for the production of multilayered cakes with various types of shapes, layers, fillings and decorations, that are also very suitable for freezing.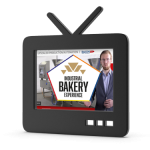 Frozen Confectionery at the Industrial Bakery Experience
One of the live-events at the Industrial Bakery Experience was dedicated to the theme Frozen Confectionery. 
Click on the button below to find a full overview of the contributions of all the partners at the IBE on Frozen Confectionery. 
Please fill in the form and we will contact you
BAKON designs and manufactures
Standardized and customized
spraying machines
cutting machines
depositing machines