How we take good care of your machine
REDCASE provides remote service & support for your machine 
More important than ever in times like these
Online commissioning for the installation of machinery is now more common than ever before.
To prepare an online commissioning, the machine is tested in the BAKON factory in a real life situation with the customer's products. 
The online commissioning at the customer's factory is done by using internet and a video connection.
A REDCASE run is made after the online commissioning to check the installation and set-up and to obtain a reference point for future checks.
In each following REDCASE run the status of the machine is analyzed by looking back at this reference point.
Regular and good maintenance is required to keep your machinery running smoothly. 
Unnecessary downtime is prevented by close online monitoring and regular machine check-up by the REDCASE Service & Support program.
Problems are recognized  before they occur and can be resolved online or in some cases by sending a service engineer at a time that suits you. 
4 timers per year an online machine check-up. 
A report after each check-up with a list of recommendations to keep your machine in good condition.
Access to the BAKON portal to check the status of your machine.
Safe storage of machine and recipe parameters in the BAKON portal (login with personal pass word).
Also available in the portal: electrical diagrams, manuals, certificates and list of spare parts.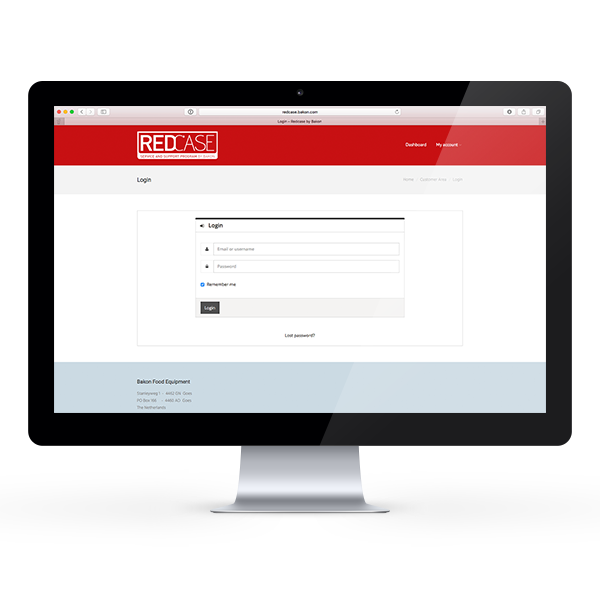 contains the following items:
IP Camera for visual contact during service.
Special tools for adjustments and maintenance.
Spare parts and a maintenance product.
Your access code to the BAKON portal.
REDCASE is available for our GEARWHEEL AND PISTON DEPOSITORS, ULTRASONIC SLICERS AND PRODUCTION LINES

We offer a 3-year warranty on our GEARWHEEL DEPOSITOR and NANO ULTRASONIC SLICER when bought together with our Service & Support program REDCASE.
In the next video one of our service engineers explains REDCASE
Please fill in the form and we will contact you
BAKON designs and manufactures
Standardized and customized
spraying machines
cutting machines
depositing machines