INDUSTRIAL BAKERY EXPERIENCE
Join us at this unique virtual meeting place where 5 market leaders will inform you on the latest developments in the Industrial Bakery Industry. We hope to see your there!
Your partner when it comes to industrial automation
BAKON is your partner in customized and turnkey solutions to optimize your production processes for Depositing, Spraying, Ultrasonic Cutting and many other applications within that field. We develop and manufacture complete custom-made production lines according to your needs and requirements.
INNOVATIVE PRODUCTION LINES
BAKON has developed various innovative production lines with a large number of applications, which allows you to run the production of many different products fully automated. Together with our customers, we look for the most effective solution. This may result in the development of an innovative new production solution, but it can also be an innovative adaption to an existing production line concept.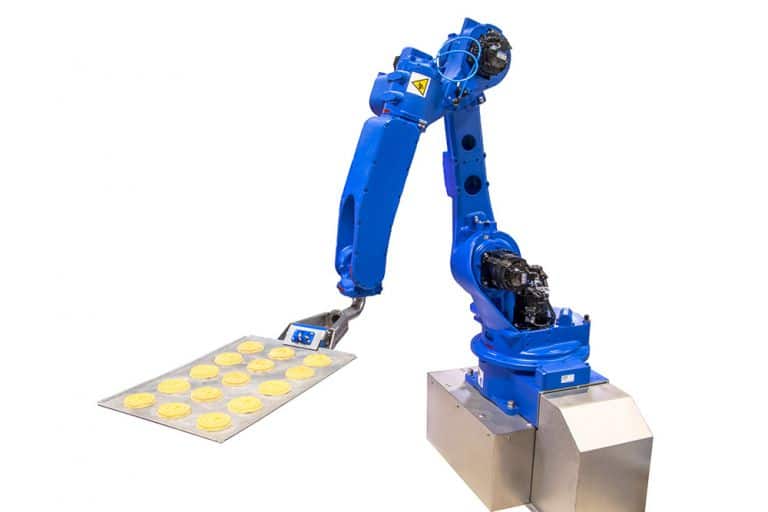 IN NEED OF AN EXTRA HAND? ADD A ROBOTIC ARM
The addition of a ROBOTIC ARM can be the solution for the performing of monotonous and repetitive tasks. The ROBOTIC ARM performs these repetitive tasks with great accuracy at a constant speed. ROBOTIC ARMS can be used for various applications and at different places in your automated production line.
THE PROOF OF THE CUPCAKE …
.. is in eating it and that's what people do a lot! Cupcakes have been a great success over the years and still prove to be. A beautiful product is only created when started with the correct depositing process and the right depositing machine. And that also applies to cupcakes. The CUPCAKE LINE takes also care of the finishing of the cupcakes, such as applying a delicious filling and a perfect finish on top.
You can choose from a wide range of depositing machines that are very suitable for the depositing of all kinds of batter. The finishing may be so beautiful, but it all starts with the correct depositing of the cupcake batter.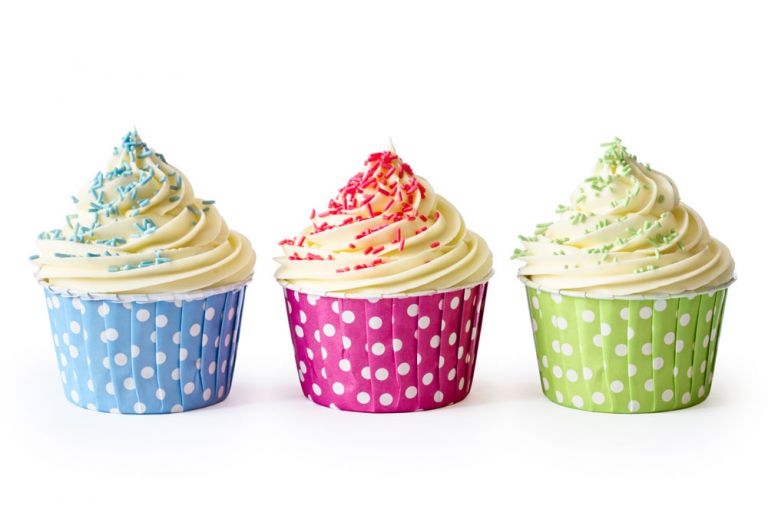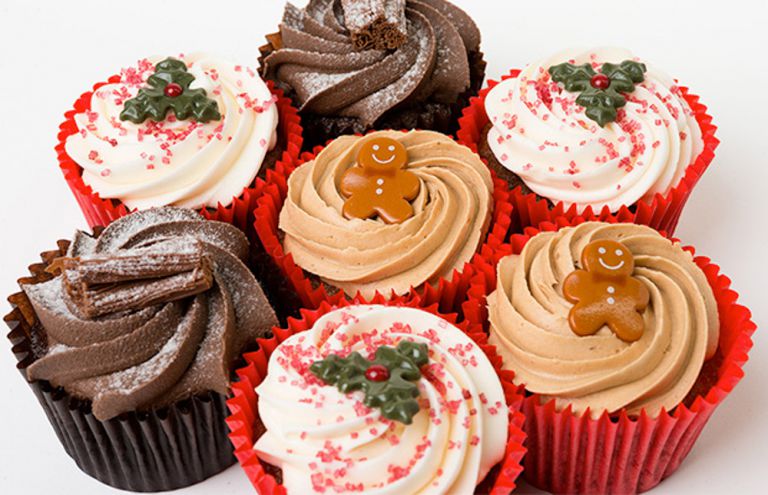 The injection of, for instance, marmalade or chocolate is a process that runs smoothly because it is integrated in this Cupcake Line.
The icing on the cake is done by the last unit in the CUPCAKE LINE. Here the cupcake is provided with a nice icing all around on the side of the cakes. And of course the top is not forgotten either.
The undiminished interest in donuts has probably not escaped your attention. Donuts have been one of the best-selling products for years and beautifully decorated donuts quickly find their way to the customers.
Decorating donuts by hand is time consuming and requires intensive labor. With the BAKON DIPPING LINE your capacity as well the quality goes up while your costs will go down.
A working width matching to your requirements makes it able to reach your production capacity easily.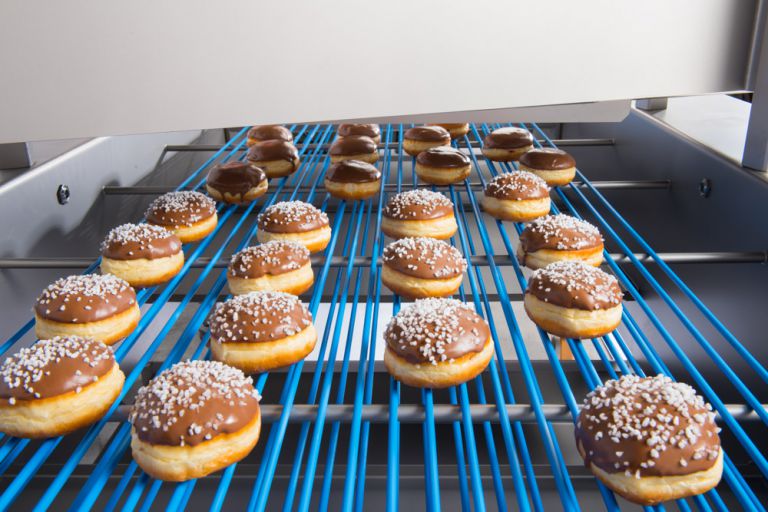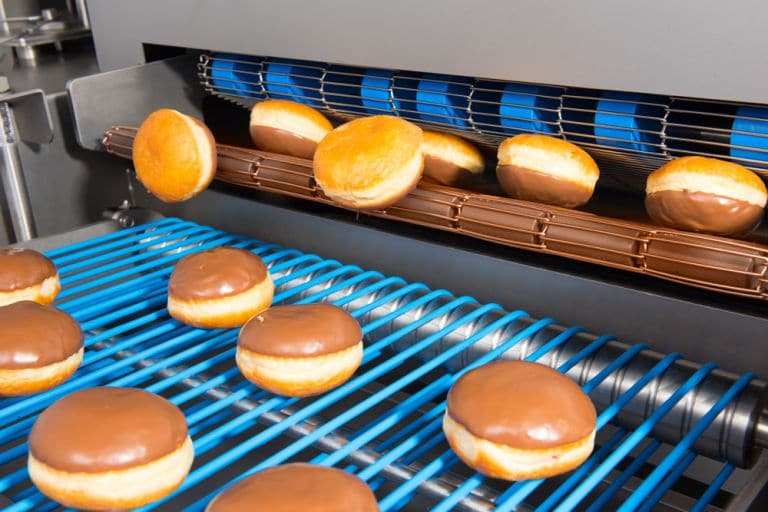 The injection of, for instance, marmalade or chocolate is a process that runs smoothly because it is integrated in this Cupcake Line.
For final decoration of the donuts, like stripes or sprinkles, a DRIZZLE UNIT or a STREWER may be installed towards the end of the DIPPING LINE.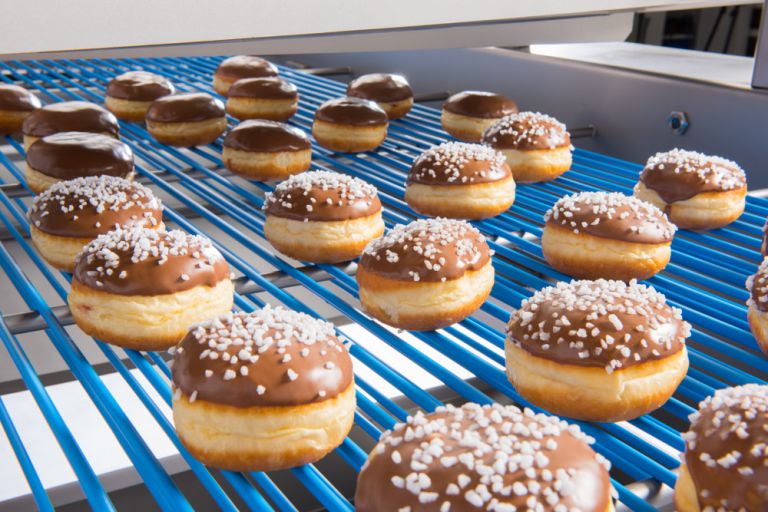 PORTIONING AND WEIGHT CONTROL WITH BAKON ULTRASONIC CUTTING SOLUTIONS
The Ultrasonic cutting Technology ensures razor sharp cutting that can be used for all kinds of products, even the very delicate ones. Products might be round or square and may be freshly baked or deep frozen. All BAKON Ultrasonic Slicers are equipped with high quality titanium blades to provide perfect cutting results for best selling products.
BAKON manufactures stand-alone and inline cutting solutions for cutting capacities matching your requirements. From stand- alone to large industrial inline solutions without limitations.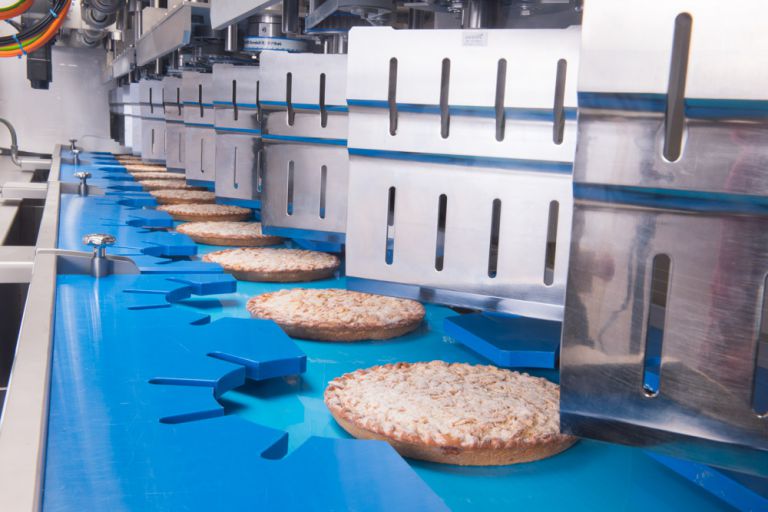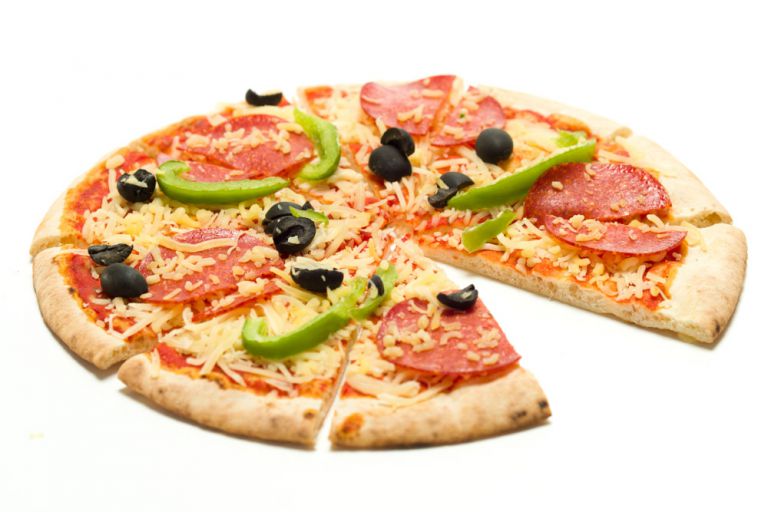 All BAKON ULTRASONIC cutting machines are equipped with advanced software and full color touch screens to set and change all parameters and cutting patterns, so you can easily switch from pattern or recipe.
Safety in your production as a must. Therefore BAKON machines are made according to the latest technology and apply all international safety norms. Not only personal safety but also food safety is taken care of and the BAKON machines may be extended with automated cleaning devices.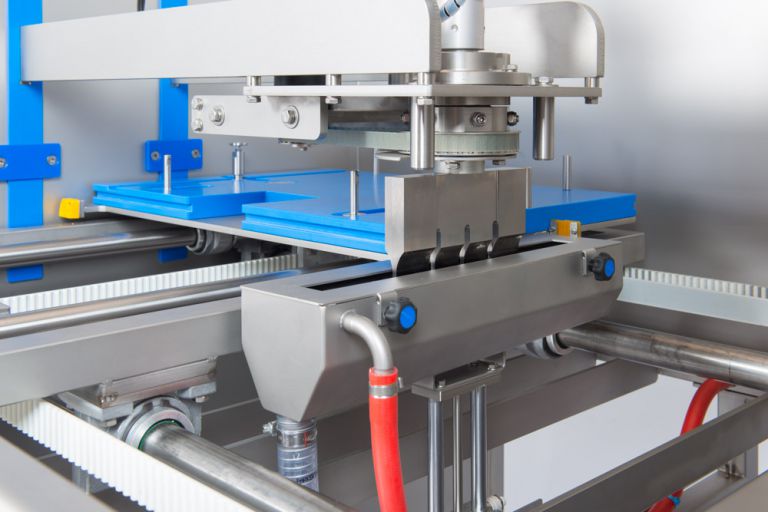 HOW TO ADD VALUE TO YOUR PRODUCTS AND MAKE IT BEST SELLERS
There are things you can do to make your products best sellers: let them shine or cover them with chocolate. With the BAKON spraying of enrobing solutions you can do both. We developed a range of spraying machines to suit both traditional and industrial confectionaries. With our knowledge of fluids we can certainly provide you with the right solution for your application. A solution that will keep your working environment clean as well.
Glaze is, of course, one of the ingredients that will make your products best sellers. We can offer various solutions that are very suitable for glaze spraying. Take for instance the JELLY EASY range. As the name suggests a machine that is easy to use, but also easy to maintain and easy to clean. Ready in no time because of the short heating time and very suitable for Bag-in-Box ready-to-use glaze.
Looking for industrial solutions then the AUTOMATIC GLAZE SPRAYING machine might be the right choice for you. This high capacity machine has a working width up to 1200 mm. Customized solutions are of course possible.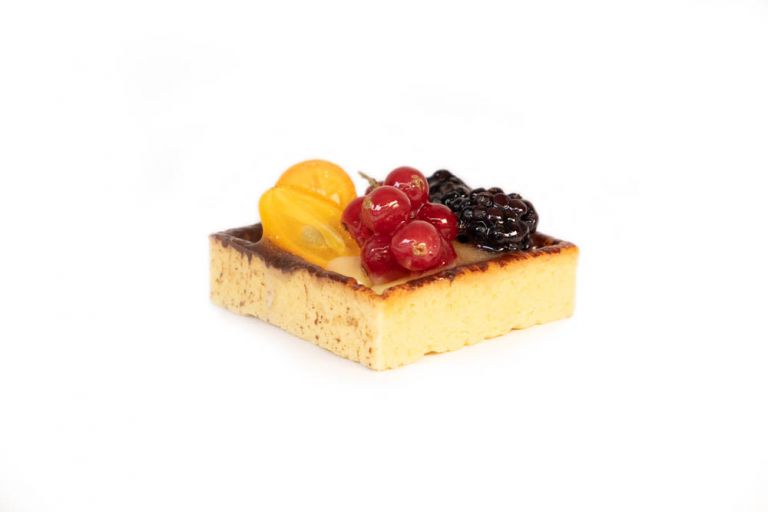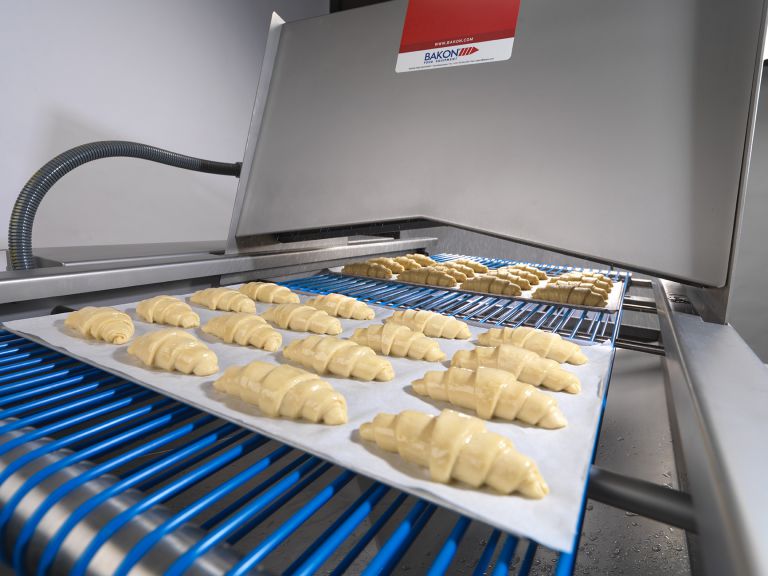 USING EGG WASH (OR SUBSTITUTES)
Make the finishing touch with egg wash (or substitutes) and our DISC SPRAYER. This industrial spraying solution makes it possible to work fast, clean and efficient to the perfection of your products and always a clean working environment.
No need for an industrial spraying solution? Take a closer look at the SPRAYMIX. This compact and user-friendly machine, that is able to spray all kinds of liquids, could well be suitable for you.
Put some chocolate on top of your products and they will boost your sales. To produce these irresistible products we recommend our CHOCOSPRAYER, which is available in various executions. With digital temperature control and heated hoses, the chocolate (compound or coverture) or cocoa butter is always on the exact processing temperature.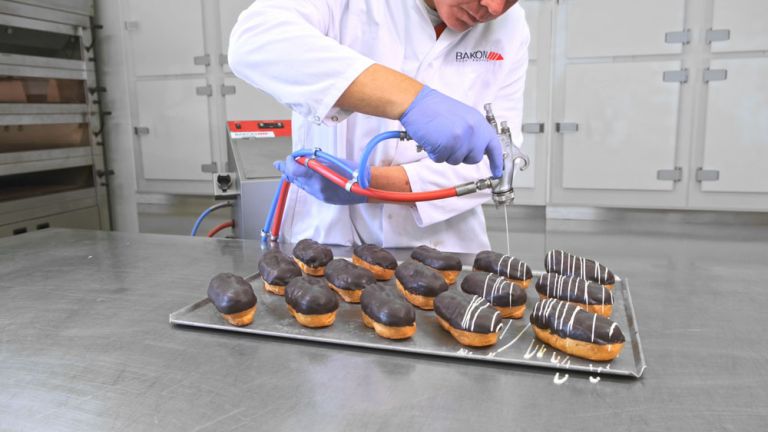 This modul built and mainly digitally controlled CAKELINE optimizes your cake production process to reach an efficient production of both round and/or square cakes. This cake production line is available as a production line, of course customized and tailor-made, to meet all your requirements of your products.
The modular design of the CAKELINE is particularly suitable for your products. The number of layers of cream, syrup spraying, pressing, pouring, and strewing units are variable. This way it's easy to develop the exact right CAKELINE that's perfect for your cakes.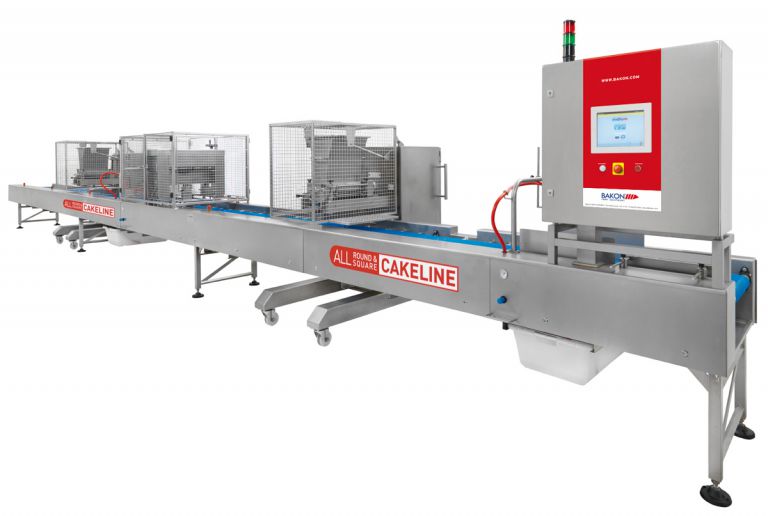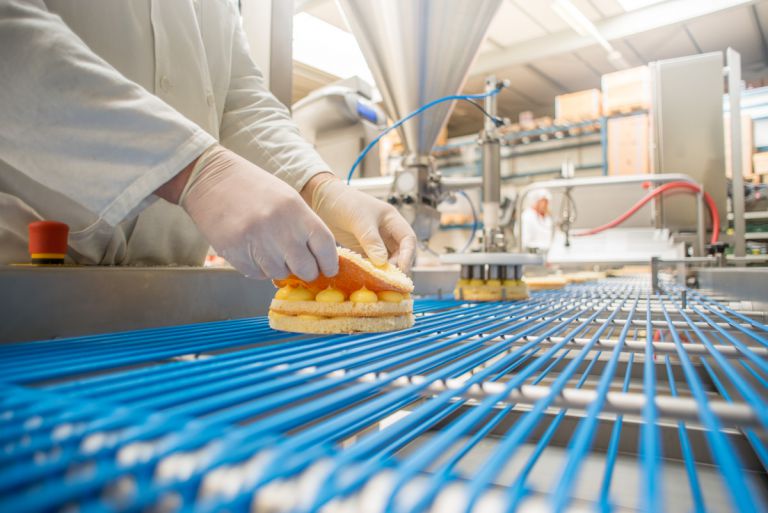 VARIOUS SUITABLE MACHINES TO IMPLEMENT IN A CAKELINE
• BD9 (with or without Cake Decorator)
• Gearwheel Depositor
• Transfer Pump
• Syrup Sprayer
• Pressing Unit
How BAKON responds to market developments
BAKON closely follows market developments and responds to this with the development of multi-usable and labor-saving solutions. Due to their extensive automation, these solutions also contribute to the optimization of your production process.
Industry 4.0 better known as smart industry makes smart factories. With BAKON, you can start making your factory smart. BAKON's service and support program REDCASE can read your machine(s) remotely to obtain good insights in the condition of your equipment; this secures production continuity and helps in the optimization of your production processes. In combination with an annual inspection contract, you eliminate the risk of discontinuity caused by poor maintenance. In combination with an annual inspection contract, you eliminate the risk of discontinuity caused by poor maintenance.
Remote Service & Support (Redcase)
Due to close monitoring and machine check-ups, BAKON offers the security that unnecessary downtime is absolutely minimized. Online machine check-ups provide the insight into the status of your equipment. All your machines data and even copies of your recipes are safely stored and easily accessible in your own BAKON Portal. BAKON REDCASE means 24/7 service and support!
THE BENEFITS OF REDCASE DURING COVID19
Certainly in times like these you want to depend on service performed by service engineers, the REDCASE provides a remote engineer just when you need it. REDCASE provides this and even more.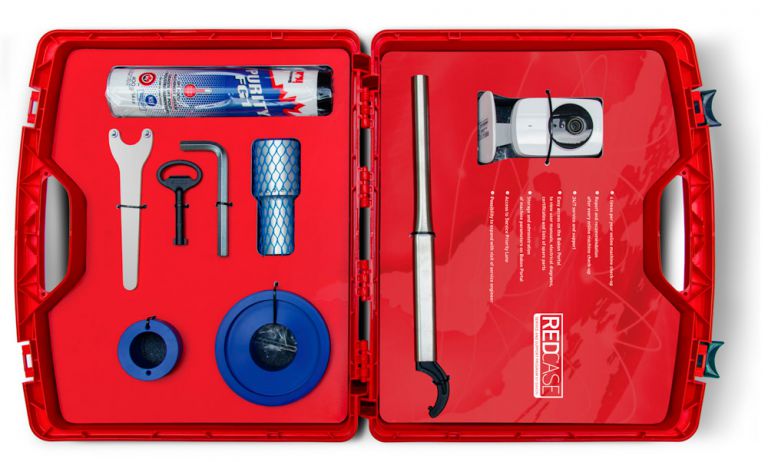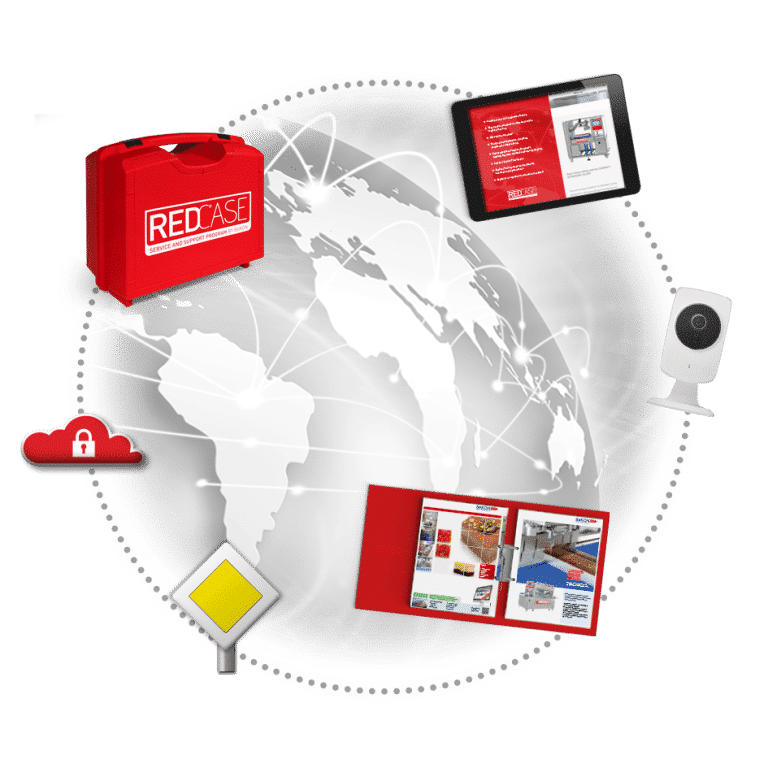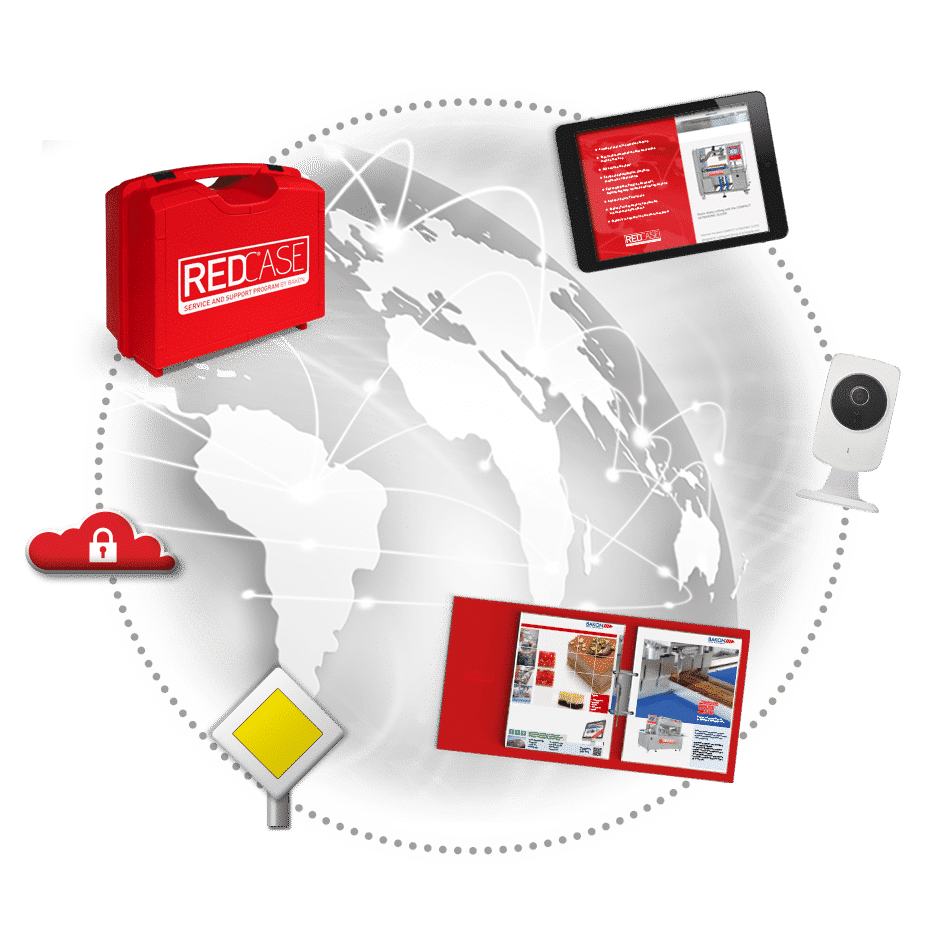 WHAT IS INCLUDED WITH REDCASE
Standard 4 times per year online machine check-up with reports and recommendations which can be expanded
Continuously updates available of machine parameters
Storage of machine parameters on the BAKON portal
Easy access to the BAKON portal to view manuals, electrical diagrams, etc.
A REDCASE toolcase with IP Camera, spare parts, tools and maintenance products.
BAKON is committed to dealing responsibly with the environment through energy- saving measures, such as downsizing the use of electrical power and – where possible – the use of recyclable materials.
With the implementing of process innovation we also try to contribute to the achievement of the sustainability goals of our customers.
By informing our employees, about sustainable use of resources and responsible waste management and acting accordingly, we are constantly striving to increase our contribution to sustainability. BAKON solutions are designed to avoid any unnecessary waste of products.
Different kinds of baked products have different shelf lives. Temperature and packaging naturally plays an important role in the shelf life period of products, but different coatings (less contact with air) can also have a beneficial effect on the shelf life. BAKON offers various machines that may provide your products with different types of coatings, that will help to extend the shelf life and attractiveness of your products.
Desserts frozen or fresh, may consist of different layers, liquid or semi-liquid, based on fruit purées, milk and cream, custards, mousses, etc. BAKON offers many solutions for the automated production of desserts consisting several layers of different (semi)-liquids. The use of an automated DESSERT PRODUCTION LINES, with for example 3 DEPOSITORS inline at one conveyor, will speed up your production. This way you achieve a high production of very attractive desserts (made with different layers) that are also very suitable to be frozen.
The Ultrasonic cutting technology ensures razor sharp cutting for all kinds of products, whether they are fresh or (deep) frozen. The high quality titanium cutting blades easily cut through frozen products.
COMBINING THE BEST SPRAYING SOLUTIONS WITH THE RIGHT PRODUCTS!
Bazz. is the ideal match between BAKON, as manufacturer of bakery machines and Zeelandia, as supplier of ingredients. This collaboration results in seamlessly connected production systems. In order to obtain the best results it is essential that your raw ingredients will be processed with the best appropriate machines. Discover the power of collaboration, Discover the power of bazz.
It is essential that you have the final products in mind when starting improving your production process. When producing, for instance, sponge cake, muffins, or cupcakes the use of the right release agent is very important to obtain beautiful products. Bazz. – the collaboration between BAKON and Zeelandia – ensures that you are working with the perfect mix, meaning quality machinery tuned to the right raw materials.
BAKON designs and manufactures
Standardized and customized
spraying machines
cutting machines
depositing machines