TURNKEY- CUSTOMIZED - STANDARD
Achieve consistency, a higher production and product quality, while saving on costs and labour with the use of the appropriate industrial line.
Explore a few of our Industrial Lines
Turnkey Production Line with Freezing Tunnel, Ultrasonic Slicer, lifter and paper remover
Depositing, freezing, cutting and finishing are done in one continuous production process, thus labor and cost saving.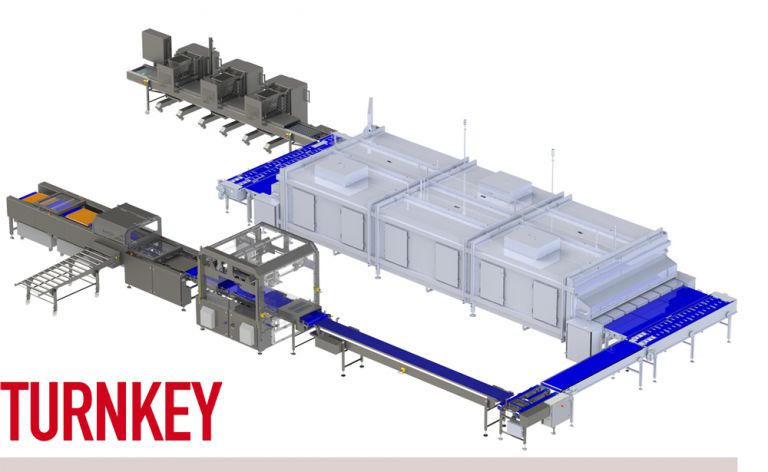 Adjustable cutting blades
The cutting takes place while the product is still in the rectangular mold.
The cutting blade consists of two parts; one part is lifted when cutting crosswise.
Depositing Line with Denester
This Depositing Line is equipped with a Denester, a Piston Depositor and 2 Industrial Transfer Pumps.
The Denester dispenses a variety of paper molds, while the Piston Depositor is capable of depositing two different types of batter at the same time.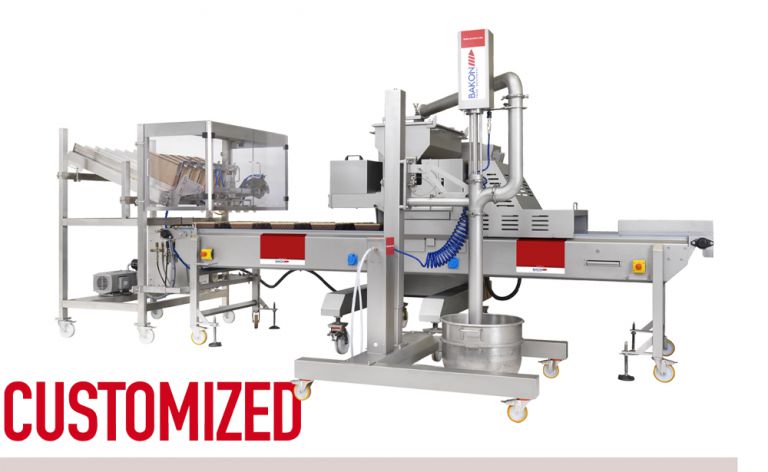 The Denester is able to dispense a variety of paper molds onto the conveyor at an adjustable pitch.
Cake Batter Depositing Line
This CAKE BATTER DEPOSITING LINE is one of our Standard Industrial lines.
A RELEASE AGENT SPRAYER takes care of accurate spraying of the molds. Depositing of the cake batter is done with a BD9 DEPOSITOR. 
The INDUSTRIAL TRANFER PUMP fills up the hopper of the BD9.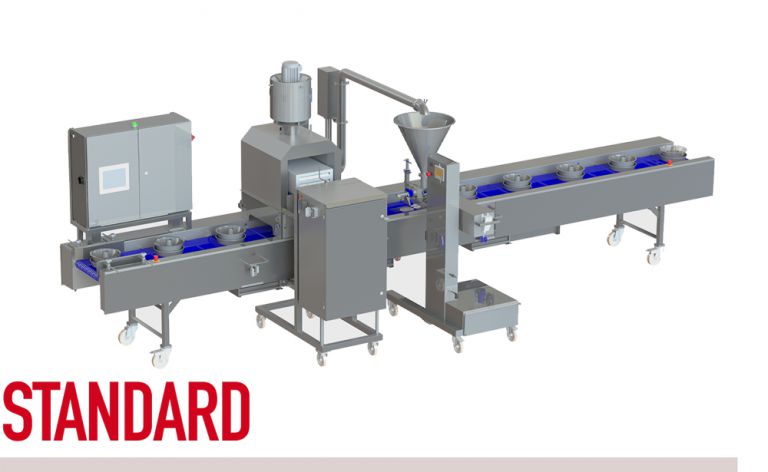 Good greasing and depositing leads to a higher production and product quality.
Service and Support by REDCASE
All our Industrial Lines can be equipped with REDCASE. 
REDCASE provides consistency in production processes, higher production and product qualities  due to close online monitoring and machine check-ups. Unnecessary downtime is absolutely minimized by using REDCASE.
The benefits of REDCASE:
4 times per year an online machine check-up.

Report and recommendation after every online machine check-up.

Worldwide 24/7 Service and Support.
Safe storage of machine and recipe parameters in the BAKON Portal
Manuals, electrical diagrams, certificates and lists of spare parts are also available in the portal.
There is always the possibility to expand REDCASE  with a visit of service engineer. 
Please fill in the form and we will contact you
BAKON designs and manufactures
Standardized and customized
spraying machines
cutting machines
depositing machines